This page is dedicated to local artists to showcase their talents and links to their personal galleries or contact information if you are interested in purchasing any artwork. Click on images for larger view. Featured artists: David Bromley, John Shea, Linda Myers.
ARTISTS
DAVID BROMLEY
David Bromley was born in Kingston Ontario. When David was 9 months old the Bromley family moved from Kingston to Perth. David grew up in the town of Perth, Ontario and now  lives in Ottawa Ontario but spends his summers at Otty Lake.  David is the Coordinator and Professor of the Graphic Design Program in the School of Media and Design at Algonquin College in Ottawa. David has been in the graphic design industry in Ottawa for the past 39 years. His work covers all aspects of graphic design but his main focus is on logo design with over 30 designs in Ottawa and area. Local Perth logos include the Perth 200th Anniversary Logo, Perth Sports Hall of Fame Logo, Lake 88 Logo, Perth Through the Ages Historic Walk Logo, Lonely Ghosts Walk Logo and the Perth Farmer's Market Logo. David likes to "dabble" in many areas of art but concentrates on pastel painting, yarn painting, metal work and wood/lino block hand pulled prints. David has sold his artwork nationally and internationally.
You can view more work by following this link: davidbromley.design
PROUD – 12″x9″ Black and White Lino Block Print. Limited edition 20 original hand pulled signed and numbered prints. $250.00 framed.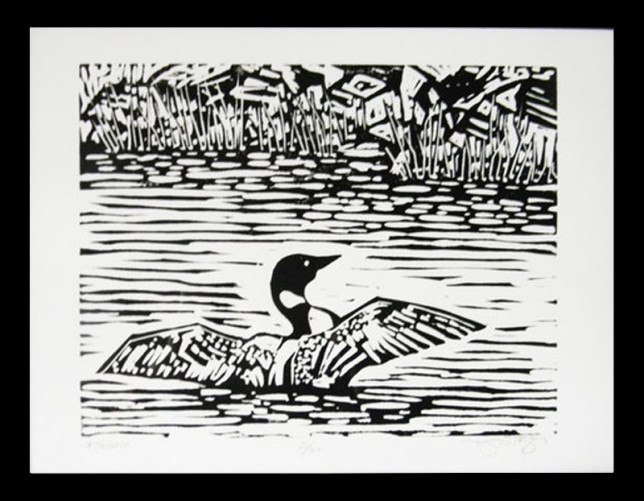 Original, framed chalk pastels, 8×10. $200.00. 8×10 prints unframed $25.00.
Images top top to bottom, left to right: 1. The Bottling Works (Perth Ontario) 2. Broken Rail (Otty Lake) 3. 39′ Thriftmaster (Ritchies Sawmill, Tay River) 4. St. James Anglican Church (Perth Ontario) 5. Four Pines (Crotch Lake Ontario)
Yarn Paintings, 8×10. Framed $250.00. 8×10 prints unframed $25.00.
1. Winter Shadows (original available) 2. On Guard (prints only available) 3. Loggerhead (prints only available). 4. Brand Owl  (prints only available) 5. Puffin Dive (original available).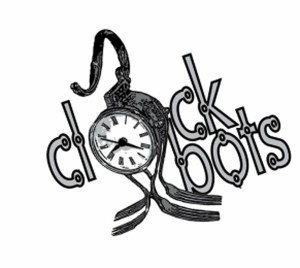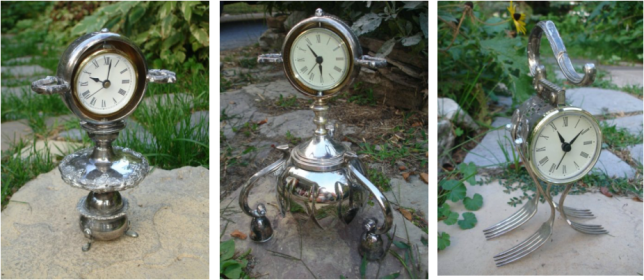 ---
JOHN SHEA  
Born in Montreal, Quebec, John now lives on Newboro Lake. John first attended the School of Art & Design at the Montreal Museum of Fine Arts for two years, went on to receive a Bachelor of Fine Arts from Syracuse University and a Bachelor of Education from Queen's University in Kingston.
ARTISTS WEB SITE    JOHN SHEA FINE ART
11″x14″ prints, white mat and backing – $25.00ea
Images: 1 Matheson House 2 Bistro Italiano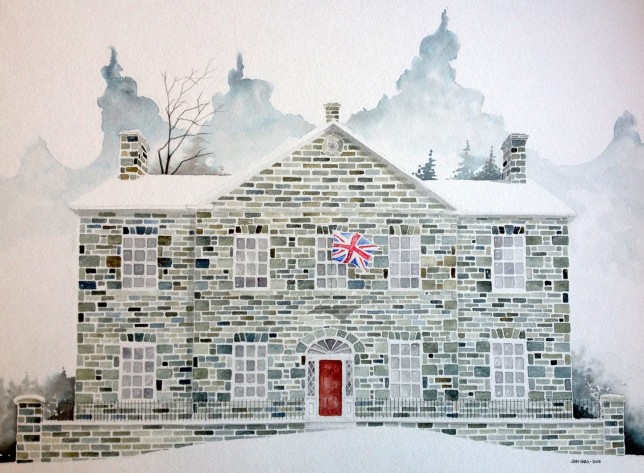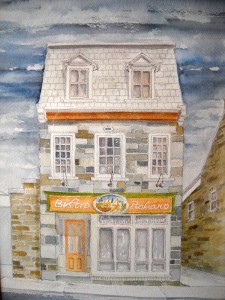 ---
LINDA HENDERSON-MYERS
Growing up in a small town, surrounded by century-old estates and weather-worn farms, Linda Henderson has come to appreciate the architecture of eastern Ontario. Capturing these historic buildings help link us to our past. "As I work my mind wonders to what sounds must have echoed within those walls"…
Linda moved to Perth with her parents at a young age and has always loved to draw. Recognized by her teachers she was offered special art instruction growing up. She graduated, with distinction, from the Fine arts program at St. Lawrence College, in Kingston, and went on to take several other related courses throughout her life.
She has participated in several art shows, including a sold-out show at the Bracegirdle gallery in Perth, and has produced many commissions that can be found in Florida, Scotland, Granada, Toronto and places in between.
Linda's passion for drawing is evident in her finished works. She has always enjoyed creating realistic pieces that challenge her ability – relishing the experience that comes with each new work of art. Watercolour is her preferred choice of medium but she also uses ink, graphite, coloured pencil and acrylic quite extensively. Linda also works as a graphic designer/illustrator in Kemptville and lives with her family in Port Elmsley.
Contact: lunacreative16@gmail.com
Coloured Digital reproductions of watercolour paintings of Perth. 8.5 x 11. Unframed $25.00. (Note: Prices include applicable taxes. Shipping extra.)
Images top to bottom left to right: 1. The Courthouse 2. Perth Manor 3. Nevis Cottage 4. The Crain House 4. St. James Anglican Church 5. St. John's Catholic Church 6. The Old Library.
Beveridges' Lockmaster's House
Watercolour on Arches paper 18 x 24 approx. Framed $350.00. (Note: Prices include applicable taxes. Shipping extra.)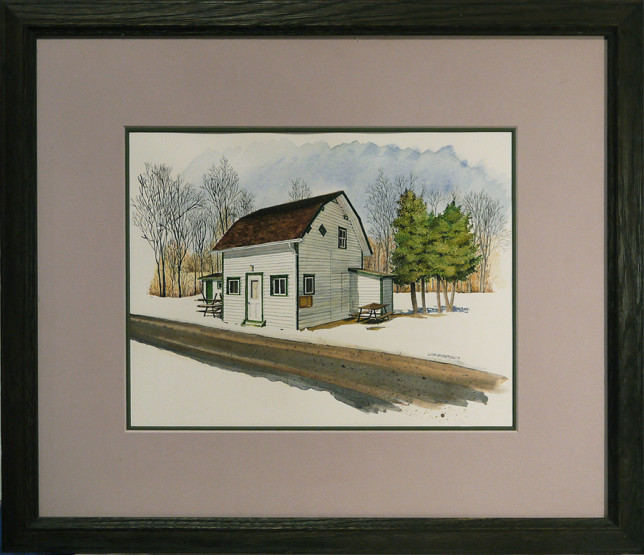 ---
ANN (WARDLE) FULLERTON
 Ann was born in Brampton, Ontario.  Her father was a designer on the Avro Arrow, but  he died of a heart attack when Ann was only 15months old.   Her mother remarried when Ann was 6.  The family moved to Perth  when she was 10.    Ann now lives in Grand Bend and Mississauga but returns to Perth almost every year to reunite with  friends.
Growing up in Perth, Ontario , has left an imprint on her heart that is reflected in her art.   Ann stated, "I often wish that I could step back in time and I guess my work reflects that."  Old stone architecture and rustic barns are featured  in many of her landscapes while antique vases and lace are favored subject matter in a still life.  Nostalgia is only one aspect of her repertoire, she is a diverse artist who can bring any subject matter to life.  Her landscapes evoke a mood and atmosphere while her floral paintings are bold, and masterful.
Her background as an award-winning art director / designer gives her work a strong sense of design and composition.   Her work has appeared in various publications such as Canadian Gardening, Homemakers, and  she was the featured artist in a 12-month calendar for Peel Mutual Insurance.
Ann has taught watercolour for the past 20 years at a number of locations:  Sheridan College, Visual Arts Mississauga, and for various art groups throughout Southern Ontario.
You can contact Ann: afullerton@rogers.com
1- A Special Gift  2. Strawberries and Tea 3. Barn  4. Peony-Bouquet  5. White Peonies In Vase  6. Winter Woodcuts  7. Adventure of Rabbit     8. Rusty Hinge  9. Trail Time  10. Early Morning Paddler