THE WAR OF 1812
During the Napoleonic Wars, the British government raised regiments for home service, known as "fencibles." These temporary units were used to protect British interests wherever the units were raised, in Great Britain or North America, and were not to be deployed for overseas duty on foreign soil. In this regard, they were similar to the members of Canada's National Resource Mobilization Act (NRMA) during the Second World War; members served in uniform in Canada but did not serve with Canadian forces overseas. Unlike those soldiers, however, the fencibles faced a clear and present danger during the turbulent age of Napoleonic warfare that engulfed Europe as theWar of 1812 was waged on the battlefields and waterways of North America.
Most fencible units saw action in key battles of the War of 1812, either in part or whole. Units of the Glengarry Light Infantry Fencibles served in a series of battles, and the entire regiment served at Lundy's Lane. All these fencible units were disbanded in 1816, or were reconfigured as part of the general armed forces of Great Britain.  With some exception, given their ad hoc nature and poor fighting strength, the fencibles served well but were comparatively undistinguished as part of the British forces during the War of 1812.  Author: Jason Ridler
Then with the close of the war of 1812, the Glengarry Light Infantry Regiment of Fencibles, the Canadian Fencibles and the deWatteville regiments arrived in June 1816, locating in Perth.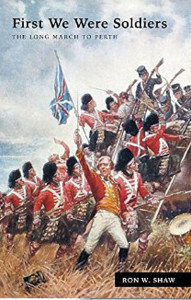 Ron Shaw's Book: First We Were Soldiers – The Long March To Perth. A great read and reference. In First We Were Soldiers Ron W. Shaw introduces us to a cross section of Perth's Soldier-Settlers — corrupt officers and illiterate Privates, heroes and deserters, wives rescuing wounded husbands from the battlefield, and children born on storm tossed troop ships or in POW camps. In the mix were English, Scots and Irish, as well as Swiss, French, Dutch, Polish, Sicilian and American. Shaw portrays the lives of the men and their families, as they marched with the armies of Wellington and Prevost across the Iberian Peninsula and through the North American backwoods before finding themselves swinging an axe in the elm forests and cedar swamps north of the Rideau River.
http://www.amazon.ca/First-Were-Soldiers-Ron-Shaw/dp/1460259718/ref=tmm_hrd_title_0
---
THE PERTH MILITIA 1831
---
THE GALLANT 42ND
42nd BATTALION BAND 1899
Rockliffe Camp, 1905 – Section 1, No. 3 Company, 42nd Regiment –
Winners at Rockliffe Ranges
---
WORLD WAR I
First Active Service Draft from the 42nd Lanark and Renfrew Regiment
THE PERTH COURIER, FRIDAY AUG. 21, 1914
OVERSEAS CONTINGENT MOBILIZE AT PERTH
Strong Company in Camp Here Since Saturday from Lanark and Renfrew
It is a far cry to a hundred years back. When Waterloo had been won by the British and a degree of freedom secured for democracy. Perth came into being as a military settlement, and was peopled by discharged soldiers and officers. For many years the old town maintained the martial customs and aspirations, and now a hundred years later, with a second Waterloo looming in sight, Perth is again a centre for militia organization. The two facts synchronize in a very nice way, and are worthy of a place in the niche of memory every citizen brings to bear on the present great struggle in Europe.
Not only on this occasion but in the Fenian Raid times, Perth was headquarters for troops volunteering for service in their country's behalf. When the call came to mobilize a Canadian expeditionary force of 21,000, Col. Balderson was among the first to volunteer his services and that of the 42nd. The colonel was instructed to raise a company of 125 men from his regiment in Lanark and Renfrew. The 42nd is one of the best rural regiments in Canada, and the recruiting officers were not long in enrolling the required number. In fact nearly 175 officers and men volunteered and enlisted for the overseas force. They enrolled at Lanark, Perth, Smiths Falls, Carleton Place, Almonte, Renfrew, Arnprior and Pembroke, and last Saturday were mobilixed at Perth. They arrived on the noon train, paraded the streets and then went into camp at the new exhibition grounds, where they remained until tonight when they entrained and left for Valcartier at Quebec, to join the other details of the Canadian overseas force.
The 42nd are represented in this expeditionary force by as fine and uniform body of men as be found anywhere; and can be c ounted on to give a good account of themselves when on active service abroad. They are nearly all young men, and single, strong and sturdy. Some are raw recruits, some are veterans who have seen active service and some have been in the militia for years. A company on war footing numbers 125 men, and eight such companies make a regiment. The aim of the Minister of Militia has been to take a war company from each of his rural regiments, and unite them at Vacartier into 8 company regiments. Just what regiment the 42nd will belong to and who the officers in command will be are not know at present.
OVERSEAS FORCE MOBILIZED
Last Thursday Col. Balderson who has quietly and persistently carried out the mobilization orders from headquarters received instruction to mobilize the overseas force at Perth and on Saturday various details from outside places came to Perth on the noon train. They were given a hearty send off at all points and were greeted at Perth by a large number of citizens who lined the streets. Col. Balderson lined the company up at the station. The Renfrew pipe band and the pipe band from Smiths Falls united forces and headed the procession playing many martial airs as the troops paraded to the exhibition grounds where they went into camp.
CAMPING AT EXHIBITION GROUNDS PERTH
The troops were quartered at the exhibition grounds. The main building used for a sleeping barracks, and the space under the grandstand was used as a messroom for officers and men. Citizens of the town loaned blankets to the men and the Caldwell firm of Lanark sent in 40 pairs. Hay was used as the ostermoors by the men, with the blankets rolled about them. The Caldwell Co. also loaned a complete camp kitchen outfit with Dan Currie of Lammamoor as chef. There were no frills to the menu, the aim being to give the men "a full stomach" of substantial food. The donation of apple sauce from Mrs. Geddes and Mrs. James McLaren was appreciated.
COL. BALDERSON SPEAKS
Before the men were dismissed on Saturday from the parade, Col. Balderson made a brief address: – "My feelings at this moment are too strong to give expression to the thoughts that come to me on this occasion, undoubtedly the most important in the history of Canada," began the Colonel. "I am the proudest man in Canada today, when I look into the face of you young Canadians and find therein the splendid response to the call from the Motherland for Canadian volunteers. When I volunteered the services of myself and the 42nd regiment I had every confidence that you would rise to the full heighth of Canadian manhood. But though I had that confidence, I must confess that this magnificent voluntary representation of the 42nd is almost greater than I had dared hoe for. That you will sustain in splendid manner the honor of Canada and the traditions of the British Empire, I have not the slightest doubt, and again I wish to tell you how proud I am to realize that in this hour of peril I am permitted to be in command of the 42nd Regiment which is in reality a part of that famous British Regiment, the Black Watch, to line up with which in itself is an honor to any soldier."
ORGANIZING THE COMPANY
Camp discipline and practice went into effect immediately. Guard was mounted, and the sentry took up his tireless patrol. Then began the task of putting the overseas force into a presentable company formation. The men were lined up and tolled off into sections in charge of sergeants and corporals, and in right and left half companies in charge of lieutenants, with Capt. Hooper in command. Experienced drill sergeants took hold of the sections and put them through the necessary drill movements whose good effects were noticed on their first parade down town. Drill steadies troops in action. The headquarters of the commanding officer was established in the camp, orders and parade states were attended to, and passed under the supervision of Col. Balderson, with Capt. Caldwell as adjutant.
WHEN THE BANDS PLAYED
The pipe bands made things interesting and gave some spirit to the marches out. On Monday evening, the Perth Citizens' Band played one of their best programs at the camp and citizens who were present thrilled at the military spectacle. Col. Balderson held a march out every afternoon. On Monday the troops paraded to the station and met their chaplin Rev. MacIntosh of Kingston. On Tuesday the visiting pipe bands took their leave and on Wednesday the company was drawn up in close formation in front of Col. Balderson's office, where "orders" were read. Three cheers were given when the the order was announced that they would entrain on Thursday afternoon at 3 o'clock for Valcartier.
VISITORS AT CAMP
Prominent citizens and officers from all over the two counties have visited the camp, and officers and men are deeply grateful for the many kindnesses shown them in Perth. Particularly do the men appreciate the spirit with which the ladies of the town entered into their self imposed task of making red cross supplies. It is estimated that nearly a hundred and fifty men volunteered and mobilized at Perth, but some were weeded out and the parade state stands at 138. The volunteers underwent a medical examination at the various recruiting towns and at Perth the examiner was Lieut. Consitt, M.D. The camp was in command of Col. Balderson with Adjutant Caldwell and Major deHertel as staff officers. Capt. Hooper, of Careton Place has command of the overseas contingent with Lieut. Clyde Scott of Perth second in command.
THE CONTINGENT LEAVES
The overseas contingent will leave Perth tonight at nine o'clock. They fall in at the gronds at eight o'clock and parade to the station headed by the Citizens' Band. The parade state of the overseas contingent from Perth is as follows: Scott C. Lieut., Wright. W. E. Col. Serg., Brown A. C., McFaulds J., McLean W., Cameron H.G., Carr F.C., Fraser E., Joynt W.J., Pearce V.G., Wright W., Sinclair A., Spalding E.
THE 130TH LANARK & RENFREW BATTALION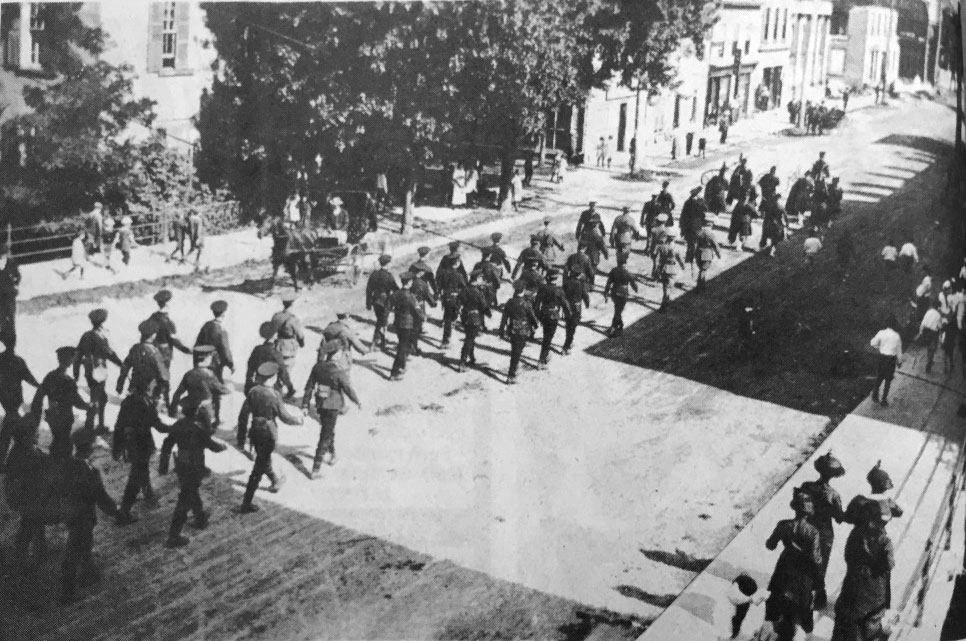 A new 130th Battalion has been created on the 15th of November by the Militia Department and Major de Hertel has been appointed officer commanding with the rank of Lieutenant Colonel and will be headquartered in Perth.  This new Battalion will practically be called the Lanark County Battalion, and will be recruited from the County as far as possible. Lieutenant Colonel de Hertel ranks the highest in the Dominion in point of securing recruits. De Hertel was born in Perth September of 1863. From this district he has recruited 3,800 men, and as a result his services have been recognized by the Militia Department.  This new Battalion, commanded by Lieut. Colonel de Hertel, will, of course be 1,200 strong, and there is a nucleus of 150 men who have already enlisted, 34 of whom are at present stationed in Perth. Headquarters for the Battalion will be at Perth and in all there will be thirty-two officers under Lieut. Colonel de Hertel. They will be at different points throughout the County and the men joining this Battalion will be stationed at these different points in the County this winter. Perth will have the largest number of men stationed here and no doubt the town will take on quite a military appearance. The office headquarters of the battalion are on the second floor of the Drennan Block, while the recruiting office is in the stand adjoining the Cecil Hotel, and "the boys' have a club room in the Ferrier Hall. The uniforms for these at present billeted in town have been ordered. The intentions are to have both a brass band and a bugle band in connection with this Battalion and these bands will be stationed in Perth. It will also be necessary to procure a field kitchen. The officers in command intend to make this one of the best Battalions that ever left the shores of Canada, and to do so they need the support of the people in the County and this support, in this trying time, is hoped for by the commanding officer. After the Battalion has been raised in all probability it will go to one of the big military centres where final training will be given before going overseas. Practically all of the officers of the old 42nd have signified their willingness to go overseas with this Battalion. The 42nd Battalion is still intact and is under the command of Col. Balderson.
Dec. 3, 1915 – Enlistment in the new 130th Lanark and Renfrew Battalion is on a high average throughout the two counties, and almost 300 are on the roll. There are a present fifty who have joined in Perth, besides the officers in command here, which is headquarters for the new Battalion. The officers are: Lieut. Colonel J.E. de Hertel of Perth, in command of the Battalion, and Major E.J. Watt of Lanark, second in command; Major E.C. Consitt of Perth, medical officer; Captain H.J. Airth of Renfrew, Quatermaster; Captain M. Carry of Millbrook, Paymaster; Captain E. Wilson of Perth, company commander; Captain Rev. McIntosh, of Lanark; Battalion Sergeant Major Rennie; Sergeant J.T. Mackey, pay sergeant; Sergeant Porter, stretcher bearer and Sergenat H.L. Edwards. All of the forgoing officers of the battalion were attached to the 42nd Regiment, but have been transferred to the new 130th Battalion. Following is a list of the privates to date: T. Albery, W.C. Andison, P. Banks, A. Bishop, F.O. Bates, H. Bygrove, J. M. Bennett, P. Brunette, A. Beauchamp, D.C. Blair, A. Cartier, A. Chevier, R. Cananagh, W. Cummings, J.A. Courtney, L. Lamoureux, E. Mange, G. Marcotte, B. McEwen, W.L. McKee, A. Provost, C. Riley, M. Sullivan, J. Saunders, B.H. Tanner, R. Dickson, T. Delaney, F. Dughen, A. Dodds, A. Foster, W.B. Finlayson, W. Finlayson, F. Gravel, C.W. Grier, R.H. Homes, C.F. Harvey, W.J. Jackson, J. Kingston, W. Lavelle, J. Lamoreux, T. Moor, T. Mundy, T. Morrison, E. McKerracher, A. Norman, J. Patterson, R. Robinson, J. Rosenburg, D. Stefanelli, J. Sunderland.
February 1916 – 130th Battalion Notes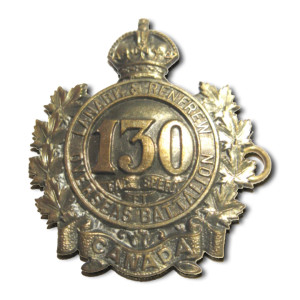 The regimental badges for the 130th Battalion arrived at camp. These metal badges were designed by Col. de Hertel and are a circle surmounted with a crown and surrounded with maple leaves with the number of the battalion in the center. One hundred and forty guns with bayonets were received at the Quartermaster's department this week, besides considerable ammunition. Winter caps and rubbers arrived and were issued to the men. The boys have a football which they are making good use of in the rear of the town hall. The strength of the Battalion is now six hundred. A smoking concert will be held in the town hall in the near future. The boys returned from Lanark Monday afternoon after a most pleasant stay of three days, where parades, concerts, dances, drill and religious exercises were takin part in. Going to Lanark the boys marched from town to Lanark in 3.25 hours. On the march out the ladies of Balderson provided a hot meal, for which all were truly grateful.
PRESENTATION OF COLOURS TO THE 130TH BATTALION, June 2, 1916
The colours were presented to the 130th Battalion last Saturday afternoon at the camp gronds buy the Perth-Upon-Tay Chapter, I.O.D.E, under quite auspicious circumstances. At 1:30 the battalion paraded to the grounds, being preceded by the four white bull terriers, mascots of the battalion, who were eager to out-distance the battalion. This was their first time to be on parade in front of the man and they were generally admired by the many people along the route of march.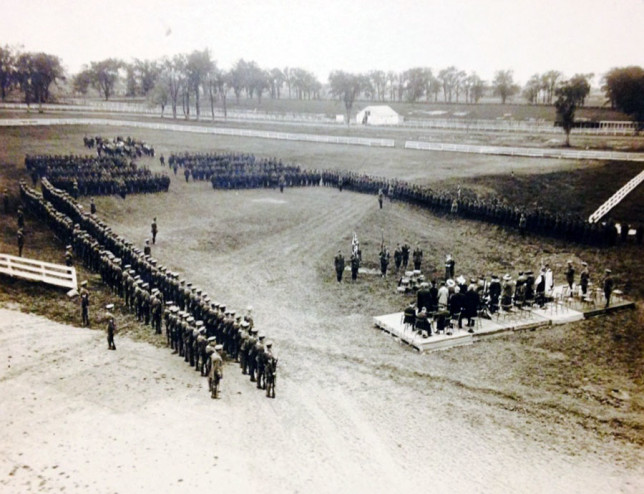 District Commander Arrives
From 1:30 till 3 o'clock and afterwards there were steady throngs of people wending their way to the camp grounds to see for the first time in Perth the presentation of colours to a battalion. At 3 o'clock Col. Hemming from Kingston, officer commanding the 3rd Military District arrived. The grand stand and grounds in the vicinity of the stand were thronged with observant people – many of whom were directly interested in the battalion. The pupils from the Public and Separate School arrived each in a body being the guests of the 130th and all had a great display of the Union Jack.
The Battalion Inspected
Mrs. Hemming accompanied Colonel Hemming and on their arrival the battalion was called to attention by Col. deHertel. It was a fresh spring scene that spread out before Col. Hemming as as he advanced to inspect the rigid khaki ranks of the battalion to the low martial airs played by the band. After satisfactory inspection Col. Hemming returned to the platform erected just south of the judges' stand on the grounds, when the ceremony of presenting the colours to the battalion commenced.
The Colours Presented
Representatives of the Daughters of the Empire, with Mrs. J.A. Stewart, Regent of the Chapter, were on the platform. The drums of the battalion were formed in a pyramid in front of the platform and the colours were unveiled by Major Watt and placed upon the drums. The colour consisted of gorgeous banners of red and blue. The red banner represents the flag of Britain and has a facing of gold, while around a circular figure in gold is the name of the battalion. The blue banner has a wreath of maple leaves with the name of the battalion, and just below is the crest of the battalion, "Fac et Spera;" while above there is a crown and this banner also has a facing of gold. The ceremony opened with the benediction, spoken by Rev. D'Arcy Clayton. The colours were then consecrated by the most Reverend Bishop Hamilton of Ottawa.
The Presentation Address (a portion of the address from Mrs. J.A. Stewart)
"I assure you I feel very much honoured today being privileged on behalf of the Perth-Tay- Chapter of the Imperial Order of the Daughters of the Empire to present the colours to the 130th Battalion…."  " We feel honoured that the commanding officer of this battalion is a citizen of Perth. Perth feels a special interest in this battalion for the reason that the commanding officer was born in Perth and has always been an interested citizen. He has occupied a prominent part in our business life and has been interested in everything fro the advancement of the town…." "I would like to say to Col. de Hertel and to the officers and men of the 130th Battalion that the town of Perth and county of Lanark has a splendid military record to maintain. In the presence of so many military men it would be presumptuous on my part to speak of the cases of this w ar or to discuss the issues at stake. Perhaps you will permit me, though, to say that Britain is fighting for the sampe principles of liberty and civilization which prevailed on the battlefield of Waterloo 101 years ago. After that great struggle many of those who had fought in the Napoleonic wars, sough homes in this great Canada of ours and this month we are celebrating the one hundredth anniversary of the settlement of this town by a military colony. Soldiers of the regular army whose term of service had expired. Had this been a year of peace I feel sure that Perth would be celebrating this event in a worthy manner. Being a year of war what could be more fitting than this scene to-day – descendants of these same men ready to go forth and fight for the self-same principles. In the century that has intervened since this town was settled, Perth and the county of Lanark have been privileged to play a prominent part in the history of Canada. In times of peace our representatives have taken a leading part in both Dominion and Provincial affairs and in times of war the good old county of Lanark has always been true to its first settlers and responded nobly to the call of duty. It was but natural and what might be expected, that in the present crisis, there should have been a ready response to the Empire's call. In presenting these colours we have every confidence that the 130th Battalion will be true to the traditions of Lanark County and by their actions on the field will write still brighter pages in the history of this town and these counties.
Colonel Hemmings Address (a portion shown here)
"It has afforded me great pleasure to be present to-say at this most impressive ceremony. I am satisfied that in your accepting these colours you will honour and protect them. You have from now on not only to represent the honor of the 130th Battalion in those colours but the honour of your King. It was, as you know, customary to carry the colours into the battle-field, but this custom has been changed. The reason is that in the past thousands of men have sacrificed their lives in saving the colours. To avoid this unnecessary sacrifice of life it has been decided that in future the colours are to remain at home. Notwithstanding the colours are not with you, you must, however, bear them in mind and honour them"……. "I know that this town and country will be proud of you, and the Empire also. Now I extend to you a welcome to Barriefield and to Kingston, and as a battalion it is advisable that you think you are without exception the best, whether or not. At any rate always think you are the best and live up to that."
There was a welcome from Mayor Jas. J. Hands, the Bishop's address and the Commanding Officer's reply. The colours were then introduced to the battalion by an escort, the band playing "God Save the King".
The March Past
The march past then took place. Col. Hemming taking the salute at the saluting base to the north of the parade grounds. As the battalion marched past there was a hearty applause from the large gathering and especially so, when the Perth company was in view. The battalion marched past in columns of platoons and was most imposing, the men showing alertness and precision. Following the march past the colours were escorted to headquarters, followed by the march of the brass and bugle bands and battalion in company formation. The national anthem then brought the proceedings to a close. In the evening there was a big display of fireworks and a sham battle between A and D companies.
PETAWAWA – JUNE 1916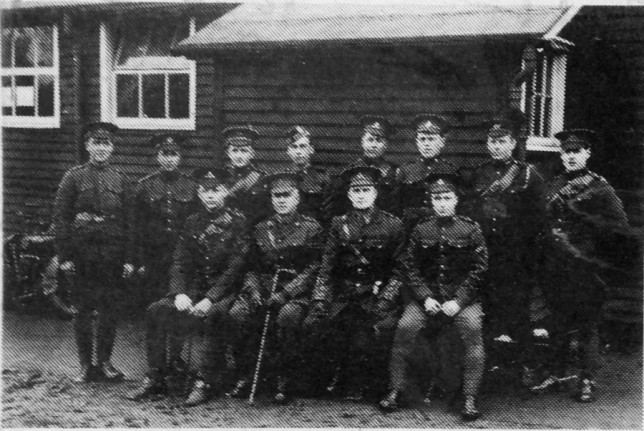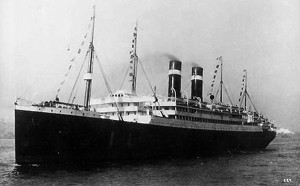 130th Battalion embarked from Halifax 27 September 1916 aboard LAPLAND of the Red Star Line, largest ship in convoy. 2,328 troops that included the 130th, strength: 25 Officers, 537 other ranks, disembarked England 6 October 1916. Cargo consisted of rifles, ammo, Red Cross supplies and 13,550 sacks of flour. Absorbed by the 12th Canadian Reserve Battalion on 16 October 1916. Disbanded 4 June 1917 by Privy Council Orders 1366 and 1863 of 21 My NS 6 JULY 1917.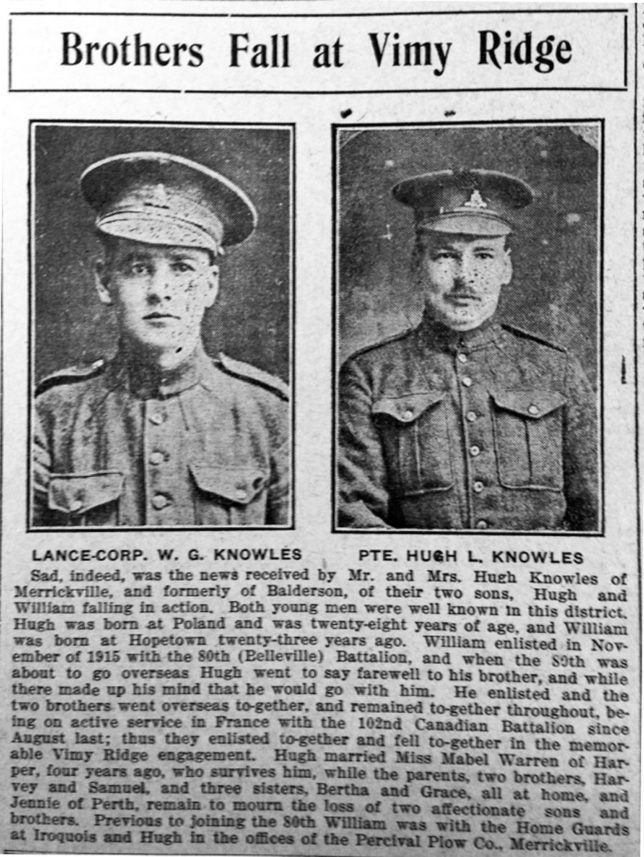 CHATEAU DE LA HAIE, FRANCE, SEPTEMBER 25TH 1917.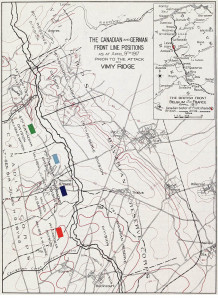 Canada Camp near the Chateau De la Haie, west of the Arras-Bully road was the newly-constructed camps in the grounds of the Chateau de la Haie. The latter was a fine stone building standing in beautiful park grounds which had been taken over by the Allies for military purposes. For very many months it was used for Brigade Headquarters by the Divisions operating in the Vimy sector, and in the surrounding grounds there sprang up four camps, known as St. Lawrence, Niagara, Canada, and Vancouver A good bath-house was constructed at the bottom of the slope leading down from the Chateau, and later in the year a fine theatre was built. During the summer the camps around the Chateau were pleasant enough, but in the early days of their being, when the weather was inclement and the accommodation limited they suffered badly from the mud, which was always well over the boot-tops and frequently engulfed a man to the knees. It was to St. Lawrence Camp that the 102nd Bn. came on the completion of the fifth tour, which also saw the end of the first section of operations on Vimy Ridge.
PERTH NURSES IN ENGLAND AND FRANCE WWI – Who rendered valuable assistance in the most important work of caring for the ill and wounded soldiers, both in the fields of Flanders, and in the British hospitals.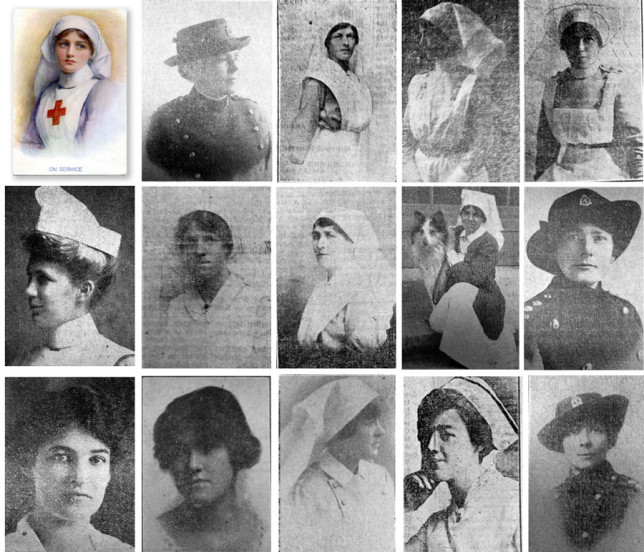 To the top right is a WWI postcard of A Red Cross nurse. Caption reads: "ON SERVICE." Caption on the reverse reads: "ON SERVICE." "Ever at Duty's call, the Red Cross Nurse, an invaluable unit of the Army, is the personification of gentleness and unselfishness. All honour to her whose skillful and ministrations have made her indispensable to our brave fighting men, easing pain with her timely care and devotion, and lightening their hearts with her tenderness and sympathy.
Truly does the work of this noble army of women, brought into being by the brave and devoted 'Lady of the Lamp' fill all hearts with reverent admiration."
Raphael Tuck & Sons, London, publisher. No. 8845. Signed Harold Copping 1916.
Nursing Sisters, top first row, left to right; Miss Kathleen Shaw, R.N., Miss Jessie Armstrong, Miss Annie B. McDiarmid, R.N., Miss Gladys Code, R.N., Miss Helena Upton, R.N., Miss Josie Armstrong, R.N., Miss Annie McCann, R.N., Miss Edith Gallagher, Miss Jessie Wilson, R.N., Miss Edna McMaster, Miss Dorothy Code, V.A.D., Miss Isabel McEwen, R.N., Miss Ruth Craig, R.N., Miss Isobel Watts, R.N.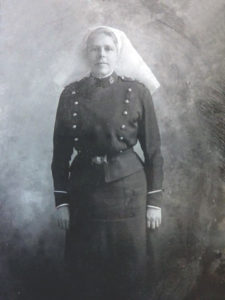 KATHLEEN D. SHAW, 1875-1958. Canadian Army Medical Core. Awarded Royal Red Cross 1st Class. England, France and on the hospital ship His Majesty's Araguaya.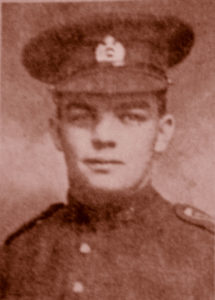 THE PERTH COURIER FRIDAY APRIL 27, 1917
SERGT. GRAHAM HOWIE – KILLED IN ACTION – VIMY RIDGE APRIL 10TH 1917
The home of Mr. And Mrs. John Howie, Perth is another to which the war has brought sorrow within the week, their second son, Sergt. Graham Howie, having been killed in action on April 10th. He was among those to give his life in the Vimy Ridge engagement. He was the only surviving man of his company after the Vimy Ridge battle on the 9th, and the following day he, too, fell never to rise. He had seen much of the war, and this was his third time in France, having returned to England twice previously through serious illness from pleurisy. Graham Howie had but reached his 21st year and is survived by his parents and three brothers, Alex, William and John and two sisters, Annie and Matilda. The last letter received from him was written from France on April 1st last, in which he states that he was very busy and in good health. He had met nearly everyone he knew – practically all the Perth boys since his sojourn in France.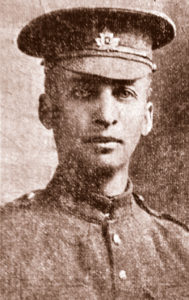 THE PERTH COURIER FRIDAY MAY 11, 1917 IN CAMBRIDGE HOSPITAL AFTER THE BATTLE PRE. ARTHUR JOHNSTON WRITES CHEERFULLY FROM ENGLAND
The following letter was received on Tuesday from Pte. Arthur Johnston, who was rendered almost "hors de combat" at the Vimy Ridge engagement. He is now in the first Eastern General hospital, Cambridge England and in good spirits although the physician says he will be confined to his cot for about two months. Arthur has been correspondent for the Courier:
April 19th, 1917. Here I am comfortably located in a splendid hospital in historic Cambridge and it is just one week today since I was wounded and that day was the last of my eight months in France. My letter written on the eve of the gig advance was posted at Boulogne last Saturday and I managed to scribble a few words that I had been injured. I am quite proud I was with the Canadians in taking Vimy Ridge on Monday morning, April 9th and I came through without a scratch. Our battalion should have been relieved from there on Wednesday morning but relief had not come before I left and we had been in the trenches since March 30th. I was hit on the left thigh with a piece of shrapnel and I am glad I held my head. I notified the boys and the oft-heard words on the battle field "Stretcher-bearer on the double" were quickly passed along. I hustled off my equipment, gas respirators and tunic and had the wound ready for first aid when it came. I also had my own field dressing ready in case it was needed. When I was given first aid two comrades assisted me to the tunnel in which the first dressing station is located and we walked over land in a zig-zag course around shell holes and under continuous shell fire, for a distance of about five hundred yards before we reached the entrance. The going was then easy through the electrically lighted tunnel. I was placed on a stretcher and the wound was dressed by our own battalion doctor who satisfied me it wouldn't be dangerous, no pieces of shrapnel were imbedded and the bone was untouched. He said it was a clean, gaping wound about the size of an egg, but when I had my first glimpse at it I thought it the size of an ink bottle. Our battalion chaplain noted down my name, number, etc., and gave ma few words of cheer and consolation. I was also given a ration of rum and cigarette and the boys of our medical staff gathered around and wished me good luck on my trip to "Blighty" One of the m Pte. Walter Jackson, of Toronto, inquired of several Perth girls of who he knew. Then a fellow name Pte. McKerracher of Arnprior said he knew me and the exact location where I lived. He named over several of my boyhood chums and reminded me of the great times we had swimming at the old Matheson bridge in Perth. Then the four stretcher bearers arrived to carry me out. They found a vast difference in me and their last case, who weighed 190 pounds. I assured them I felt about had that weight since losing so much blood and flesh out there on the ridge. When I informed them where I was from the fellow on my left rear said he hailed from Lanark County and was a relative of A. J. McDonald, the well-known Lanark merchant. We crossed what was known as Death Valley for months before Monday's advance but not a shell fell and all was quietness. The enemy are too busy now shelling our new front lines. I was placed in a motor ambulance and was taken about five miles to new hospital huts, given another dressing and something good to eat; was placed in a nice cot with a hot brick at my feet and went to sleep and forgot all about my wound and the war. Sometime on Friday I got to Bruay and from there by hospital train to Boulongne. On arriving in the reception room of the Australian General Hospital you can imagine my surprise in seeing George Earle sitting there with his left arm completely bandaged. He walked over and we had a short chat, all too short, as they soon carried me away to Ward J. I have never had any dealings with Australians before, but I want to say they were untiring in their efforts to do their utmost for the Canadians. The officers are simply fine and the nurses so kind, attentive and cheerful. I was there until Monday evening and then taken aboard the hospital ship Denis and had a most comfortable cot and when the wild waves beating against the boat awakened me early Tuesday morning I first thought I was at Breezy Time Camp, Christy Lake. The sail across the channel to Dover required about two hours and many of the boys were quite sick but I "held my own" nicely. With all speed, we were conveyed to the hospital train and were soon en-route to our destination at Cambridge. The evening papers from London and I was sorry to notice Lieut. H.J/. Wilson had been wounded and I sincerely hope he is no worse than I. I had never met him in France but heard splendid reports of him as a soldier and a man, which came to me direct from the men in his platoon. His men thought the world of him as he had always been as one of them and held their utmost esteem and confidence. The only Perth boys I met on the Vimy Ridge after the advance were Capt. J. A. Hope and Pre. Abe Robinson. With map in hand "Jack" was ending out the lay of the land and our new trenches, incidentally the men of his platoon. He is a hustling officer in every truth and the strain of war life hasn't seemed to effect his good health in the least. Pte. Robinson and I stood on the top of one of the huge craters for a few minutes and were both struck with the awe and wonderment. The representative of the Canadian Red Cross paid me a hurried visit yesterday afternoon and left writing material and ciagrettees and informed me another Perth boy named Noonan was in this hospital, so I am waiting her return today to find out what Noonan is here. I am propped up on pillows writing this and will have to stop and rest and have this ready to post. I have tried in a kind of way to let you know all my doings during the past most eventful week in my career and in a day or two will let you know how I like the conditions here. In the meantime, there is no need of worrying as I am feeling great and rather enjoy this much needed rest. I eat well and sleep well and am in good spirits and the good nurses say my wound will heal rapidly. A. M. J.
DESCRIBES THE PLAN OF ATTACK – The Perth Courier, Friday, June 15, 1917
The following letter was received from Jack Scott by his father. Jack was the son of Mr. and Mrs. John Scott of McDonald's Corners. Jack went overseas with the 130th Battalion and had been reported missing. He vividly describes an eventful attack in which he took part, and in which the late Roy Wilson of Perth met death: France, March 9th, 1917, possibly during of the Battle of Arras or an early engagement at Vimy.
"Dear Dad: Your welcome letter to hand, all O.K. I was mighty glad to get it, as I had been laid up for a few days with rheumatism. Am O.K. again now, but time passes slowly when a fellow is feeling tough and I was anxious for mail.
We are out on rest now, or rather, I should say out re-organizing. You would probably have seen in the paper where our division put over gas and followed up with an attack. Well we got rather a severe cutting up, especially our company, which formed the first move. The whole trouble was that the gas did not work on account of changing winds. In fact, some of our own men were gassed. I got a slight dose of it myself; not enough to leave any after effects, but made me fell bad for a few days. Well it would have all been fairly good had the plan been changed, but the plan was that we would advance with no artillery support until we were nearly across "no man's land" when our guns would open up and we would lay down and wait for the barrage to jump to the second line. Of course, that was all planned under conditions that the gas had worked. You see this attack was to be a walk-over. The gas the British put over is so deadly that it cleans up everything for a distance of ten miles, even putting the artillery out of action. It was used once before with a similar effect. So you see we expected a walk-over. Of course, only up until we saw it going off with a bad wind; then we knew we were up against it, for it was a bad, bad place we had to take – our objective being on the far side of a line of live craters, and advance of about 1,000 yards under fire. The distance across "no man's land" was about 500 yards.
Well, when we started we advanced with a slow walk in small parties of about 30 men. That was the first move. We were to continue so, till we crossed the German front line, then we would extend out in line and remain so, till our objective was reached. That shows how little resistance is expected from the first line. We were told to pay no attention to the first line, that the second wave would clean it up. Well, we got well out past our own wire before anything happened. There they spied us in the dark, slipping up on them. Of course, up went our S.O.S. signal. In about two seconds all hell was let loose upon us. It was the finest display of fireworks I ever saw, but not a very pleasant position to be in. We found ourselves up against about five hundred machine guns and I don't know how many riflemen, along with the rifle grenades and bombers, saying nothing of their artillery concentration. At this point we lay down and waited for our artillery to open on his front line. Well it seemed a long time in starting but at last it did an it was sure good, but it lifted too soon to save the day for us. As soon as it lifted we advanced some, pushing through to the objective, but other places such as the one we struck in the line, were too strong. We ran into six machine guns and were outnumbered 109 to 1; so we lay down in front of the barbed wire and one of the liveliest fights followed you could wish to see. The one machine gun that we had with us exhausted all its ammunition and we used all our bombs, but still they came on in overwhelming numbers. All the time we were getting it hard and by that time few out of the thirty of our party were left. There were still about 500 Germans in front of us and it was now broad daylight. The other waves that were supposed to come up had got orders to go back and we were left stranded with all our officers dead, or dying around us.
Of course, we were ignorant of what orders were being given 500 yards in rear because of the terrible noise. The Hun soon caught on to the predicament we were in and he started out in mass formation to finish us. By this time there were only five of us left. Roy Wilson from Perth, my close pal for some time and a mighty fine fellow, along with Jimmie Traill from Lanark, the Sergeant and another fellow.
We still had a few bombs and I nearly blew myself up with one of them. It wasn't my fault. The fellow next me, who thought I had no bombs, handed me one and he had pulled the key on it. Of course, I didn't notice that, and as I had one in my hand I laid his down and threw my own. When I looked down for the other I saw the smoke of the fuse curling up from it. Well I got it out of that in a hurry; it hardly left my hand when it went off, missing me but a little piece, coming back and wounding the fellow that gave it to me.
Well, about the Germans. We waited till they got into the gap in the wire and then gave them the five bombs. I don't know how many they got, but they got enough to put the fear of death in the rest and they beat it back a bit. From then on they began sniping us and every move meant about twenty explosive bullets right there. One could do nothing. If you put your head up to shoot at one of them they had you as sure as you did. All this time we were lying in a little hole filled of ice and water, so I was cold too. About this time, they started exploding little mines round us, but there were none under us. All the harm they did was to litter us with dirt. Well the worst part comes now – The Sergeant along side of me was hit in the head by an explosive bullet. He never knew what happened him. Poor Roy was next. He got in the heart while taking a shot. Jim Traill from Lanark, was wounded badly in the arm with an explosive bullet. There were only the two of us left, so we decided to try and beat it to our own lines, but I had as much idea of ever getting there as I had of flying. The other fellow got wounded as soon as he started. I thought he was dead for he lay still and he was right on top, too, in good view. I circled round him, keeping very low, indeed; almost rooting a little trench ahead of me. I took very careful observation of any chain of shell holes and made good use of them. I took a very zig-zag way of getting back, but I got there without a scratch. I was nearly frozen, though. Some of the shell holes were so deep and full of water that I had to swim across them.
That is the worst hole I've been in yet and I'll never be in worse and get through. Old fellows that had been all through the Somme said it was the worst they had ever been in. Very few got back with a whole skin. Nearly all our officers got it. We lost both our Colonel and Major. Other battalions fared just as bad. It wasn't so much a failure though, as Fritzie must have lost even more men than us and the Imperials on our right where the gas swung off and went into the German lines, followed it, and took 700 prisoners.
Well that is all the news of any importance. I had a letter from Bruce to-day. He is well, but I haven't heard from Campbell for a long time. Well this is a long letter, Dad, so I'll ring off. Love to all, Your loving son, JACK."
NOTES from the Courier files: "Pte. Jack Scott died while a prisoner of war in Germany. The evident cause of his death was for lack of food. He was taken prisoner at the Vimy Ridge engagement, April 9th while with the 75th Battalion. Alvin Wilson of Perth had been wounded and Jack hastily dressed his wounds and left him as comfortable as possible. Soon afterwards the Canadians in repelling a strong counter attack, lost heavily in men, a number being taken prisoners. Among this number were Jack Scott, Walter Roffey of Lanark and Craig Greer of Maberly. Jack Scott was the third son of Mr. and Mrs. Scott to give his life in this war. Norman and Campbell have their last resting places marked in France by the plain soldier's wooden cross. Bruce, a fourth son, who was wounded, was in Scotland, getting his commission. The family has made a record in this conflict that must surely last for all time. Words cannot express their sacrifice. Jack was originally a member of the 130th Battalion, with which unit he went to England, and to France in a draft for the 75th. He, like his brothers, was a manly young fellow, quiet and unassuming, but withal possessed of the courage and spirit of youth."
May 1918 – "The family has almost an unequalled record in the present great war, the father also enlisting, but through illness was obliged to return to civil life; Lex, the youngest son, endeavoured to join the navy, but was too young in years. Lieutenant Bruce Scott after experiences in the early Somme and Ypres engagements was sent to duties in Ireland and returned home on leave in the spring of 1918."
ARMISITICE DAY CELEBRATIONS, PERTH, NOVEMBER 11, 1918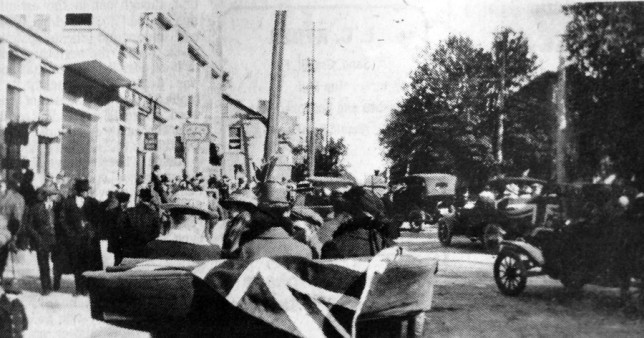 FAR FROM HOME
"Far From Home: Canada and the Great War, the NFB series of documentary videos which totals just over five hours of viewing time, examines Canada's role in World War I. The so-called Great War was a watershed for Canada: in terms of its self-perception, and its perception in the eyes of the international community. Historians attribute the experience of the war as giving Canadians collectively a new sense of identity; and an acceleration toward full autonomy as a freestanding nation. Canada's performance in the war was renowned both in terms of its sheer size and the quality of its fighting forces. Despite the carnage and grief that characterized this "war of everybody's making but nobody's choosing", Canada's contribution was one warranting national pride. A commemoration of that contribution is quite appropriate, as is the effort to provide some comprehensive historical understanding of an event so central to the nation's history. An examination of one nation's war has some inevitable limitations that are obvious in the videos: we are given one lens to view a complex global conflict. Consequently, we are seeing only aspects of the war, rather than a comprehensive overview. Other partners, such as Britain, France and the United States, enter the picture only as their actions touch on the Canadian story. The viewer best able to appreciate the series, then, is one who has a comprehensive understanding of the broad conflict and is able to assess the story against that backdrop. The neophyte will not come away with a coherent understanding of the war itself but will have some sense of what the experience was like for those who lived through it at home and in battle and what the larger events meant for the development of the Canadian consciousness and nation-state. The videos consist of well-chosen archival footage, interspersed with realistic reenactments of seminal events. In addition, very effective use is made of the words of ordinary participants, as well as of the military and political leaders who shaped and misshaped events. Readings from letters, diaries and dispatches including several from those at home add a striking human dimension that makes the conflict one facing real people not distant and now irrelevant museum pieces. The series will be of benefit to any viewer and will be of value in any history class or any discussion addressing the evolution of Canadian society in the twentieth century."
---
WORLD WAR II
LANARK AND RENFREW SCOTTISH REGIMENT "D" COMPANY PERTH 1942
H.M.C.S. LANARK DECOMMISSIONED, November 8, 1945
WAR SERVICE – Commissioned on 06 Jul 1944, at Montreal, Lanark arrived at Halifax on 28 Jul 1944. She carried out workouts in Bermuda, Lanark was assigned to the newly formed Mid-Ocean Escort Force escort group C-7 in October 1944. Until June 1945, she served as a trans-Atlantic convoy escort with the group, usually as the Senior Officer's Ship. In June 1945, she returned to Canada, beginning a tropicalization refit in mid-July in preparation for service in the South Pacific Ocean. The refit was cancelled on 31 August 1945 due to the Surrender of Japan. She was then placed in reserve at Shelburne, but was sold to Marine Industries Ltd., in 1946. Later repurchased by the RCN, she was converted to a Prestonian class ocean escort, 1954-55, and on 26 Apr 1956, commissioned for training purposed on the east coast. She was paid off the last time on 16 Mar 1965, and broken up at La Spezia, Italy in 1966.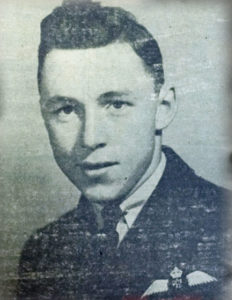 NOW LIBERATED, FO RON CODE OF PERTH SPENT 82 HOURS ADRIFT IN THE BALTIC SEA
Following is a Bournemouth, England, press despatch dated May 29, 1945,
"Taken prisoner after 82 hours in a dinghy in the Baltic, RO Ron Code of Perth, Ontario, is back in England looking none the worse for spending more than three days in the sea. 
The Perth pilot ditched his Lancaster after laying mines in the Gulf of Danzig, when two Junker 88's attacked the aircraft. Accounting for one of the fighters, the bomber gradually lost all but one of its engines, and FO Code made the night ditching in a heavy sea.
The crew all got out, but one large wave swept the navigator away. Drenched to the skin, the rest of the crew clung to the dinghy in the freezing water.
That was Sept. 29, 1943, and it was Oct. 3 before the crew were picked up. "It's strange," said FO Code, "but I wasn't hungry for the first day. We were all very sick from the motion of the dinghy and from swallowing so much slat water. The second day I was terribly hungry, but the big concern was water." They rationed the water to last nine days if necessary. The amount allowed each man was just a mouthful now and then. FO Code and his crew, afraid of going to sleep and completely losing their circulation in the icy water kept the system of watches – 15 minutes of sleep and 45 minutes of bailing of the dinghy each time a wave hit them. If they hadn't done this, the fragile rubber craft would have capsized.
"As soon as we'd bailed one lot of water out, another came in," the Ontario pilot said. "We kept seeing mirages of ships until finally one mirage stayed and came alongside… it was a Danish trawler and we were safe." Taken into a Danish port, the crew were put in a Luftwaffen hospital. Then began a series of terms in prison camps all across Germany.
At Luchenwald, near Berlin, FO Code was among the many British Empire prisoners who left the camp while it as under Russian command and made their way across the Elba to the American lines. "That trip was a pleasure trip compared to those miles and miles we marched with no rations before we were put in Luchenwald,' FO Code smiled.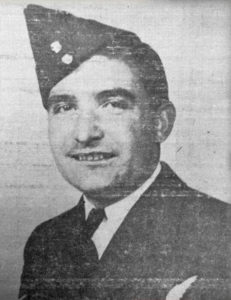 SECOND ATTACK BY THE ENEMY SAVED LIFE OF FO JIMMY KANELAKOS, DFC, PERTH 
Following is a Bournemouth, England, press despatch dated May 29th, 1945.
"Thanks to a second attack by a German night fighter, FO Jimmy Kanelakos, DFM, of Perth Ontario, is still alive. Still reading like a fiction is the story FO Kanelakos tells of the German pilot who shot him down coming to see him in the hospital with cigarettes and food saying in broken English, "I am sorry to shoot you down, but it is war."
FO Kanelakos who had already made more than 40 trips over major targets, was a mid-upper gunner.  Before being shot down, the Perth gunner had made nine trips over Berlin, flown on trips across the Alps to Italy and one time had done four runs over Dusseldorf which he says "was as flak-happy a target as you coul wish to have."  Now at the retruned prisoner of war centre here, FO Kanelakos still has parts of German shells in his legs but reckons he wants some leave before he goes back to hospital to have them removed. It was only here that he found out about his promotion to flying officer.  Shot down near Hannover on Sept. 28, 1943, FO Kanelakos explained that it was his birthday. "What a present!" he laughed "The fighter came in on the beam and chopped the whole rear turret off. We were burning badly and going down fast. I was hit in my right leg and my stomach and couldn't get out, as the turret had twisted and I was trapped."
The fighter, not satisfied with that, turned back and again a stream of bullets went through the blazing bomber. FO Kanelakos was hit again, and suddenly the aircraft fell apart in mid-air. "Just as I fell I grabbed my chute," he said. "Only part of it clipped on, and when it opened it cut me pretty badly. That was all I remember until I came to in a field." That same field was near a German aerodrome, and Kanelakos was dragging himself along on his back when two Germans came along and rushed him to the Luftwaffe hospital.  It was to this Luftwaffe hospital that the German pilot came to see what could be done for the injured gunner. Finding that FO Kanelakos was desperately ill, the German arranged for special milk and food to be brought in. Gradually, his wounds healed enough to permit transfer and a succession of hospitals followed with no real recovery until May, 1944, when he was again on his feet.  Despite being ill and unable to walk properly FO Kanelakos was sent with other prisoners on a crowded train to Sagan in Lower Silesia. "I don't think I'd have made it if it hadn't been for the other boys. They took care of me and the German guard finally relaxed and I was laid by the tiny stove and covered with blankets," he said.
Marching from Sagan for eight days with nothing to eat but what they could trade for Red Cross Soap and cigarettes, FO Kanelakos was finally sent to Luchenwald, a camp about 30 miles south of Berlin. At Luchenwald the prisoners watched the artillery barrage of the Russian army creep forward into the German capital and some shells even landed in their camp. Conditions in the camp were unbelievable, he said. Russian prisoners died by the score and were thrown into a pit and covered with lime. Running out of food with the Germans giving them only what was left of the rations after the guards had taken what they wanted, the British and American prisoners went hungry until the Norwegians came to the rescue by sharing with the Yanks and British their own few Red Cross parcels. Liberated by the advancing Russians the camp was still kept under guard. But many of the Canadians, FO Kanelakos among them, didn't wait for an official release but left and made their way through the Russians until they met the Americans. "Those Russians," said the gunner, "are wild and wooley but they're great guys. We fought beside them when we wanted them to and we drank with them when they wanted us to. We wanted to get back and they were going our way." Talking to FO Kanelakos. It's hard to believe he's the same man who spent months in hospital. Tanned and fit, he looks the picture of health but he still wears a brace around his thigh and there are those German "birthday" presents still to be removed. "But I'll worry about that when the time comes," he said.