GORE STREET LOOKING N.W.  –  Postmark: Fallbrook June 1914
RIDEAU FERRY REGATTA – Postmark: Rideau Ferry July 31, 1907
THE TIMBER SLIDE, HIGH FALLS, DALHOUSIE LAKE, Postmark: Perth April 11, 1907
RIDEAU FERRY   Postmark: Smith's Falls  Aug 5, 1907
VIEW FROM BECKWITH STREET BRIDGE ON THE TAY RIVER SHOWING PERTH TAYSIDE TEXTILES. Postmark Perth Ontario Mar. 17, 1919
VIEW FROM HAGGARTS HOUSE. THE BRIDGE IN THE DISTANCE CROSSING THE TAY RIVER IS CONNECTING MARKET STREET WHICH IS NOW KNOWN A ROGERS ROAD. Postmark Perth Ontario, 1919 Feb, 06, 1907
TAY CANAL PERTH ONTARIO. Postmark Perth Ontario, 1906 November 11
ST. ANDREW'S PRESPYTERIAN CHURCH c.1907. Postmark Perth Dec. 19th, 1907.Church on corner of Craig and Drummond Street after renovations to remove steeple and expand. Seen here beside the County Courhouse and Registry Office. This structure burned down in 1923.
PERTH ON THE TAY. Postmarked Balderson, Nov. 1908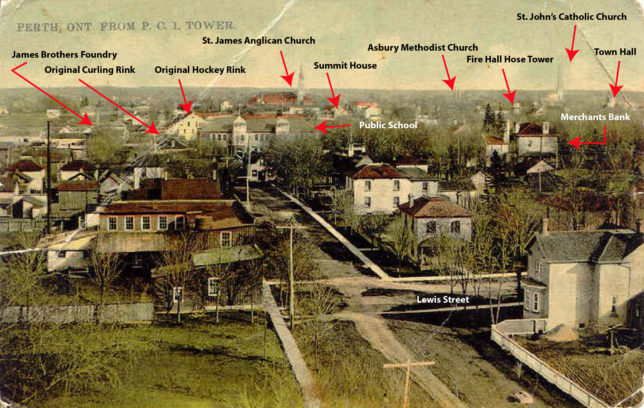 "SWEET REST" SUMMER HOME OF MR. A. SWEET, RIDEAU FERRY, ONT.
Postmarked Perth Ontario, May 1908
Scene shown here is from the Old Boys Reunion, Perth July 1st, 1905. Parade on Gore Street coming down from Herriott Street corner, crossing the bridge over The Little River, passing the Sherriff's House shown to the right.
Postmarked Perth Ontario, July 1907
THE LITTLE RED HOUSE, the oldest house in Perth, at 65 Craig Street was built of logs in 1816. Constructed by Lieut. John Adamson the house has served at various times as tavern, school, church, public hall, masonic lodge and printing office. Rev. William Bell held his first services in the attic of this house and Rev Michael Harris use the same quarters for his Anglican serves for three years, 1819-1822. A mid-19th-Century fire partly damaged the house and the Duke of Richmond, during his visit in 1819 who recommended that it be painted red. While the duke's assurance to Mrs Adamson that if painted red, Adamson's Inn would never need painting again was wishful thinking, the paint job did last for about 30 years, at which time the new owners had it painted white. It has been painted white ever since.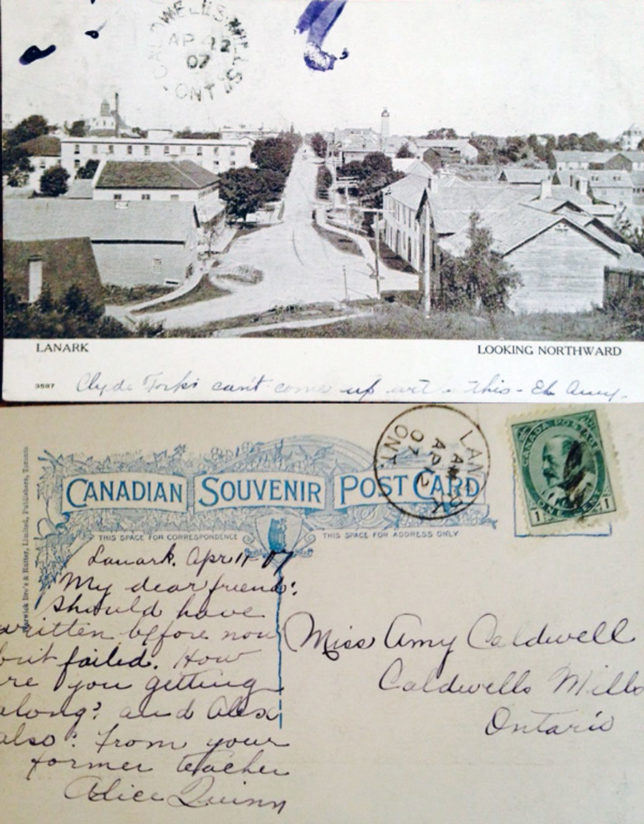 FOSTER STREET AT WILSON STREET (Revere House to the right)  –  Postmark: Perth Feb 18, 1910