JACK WALKER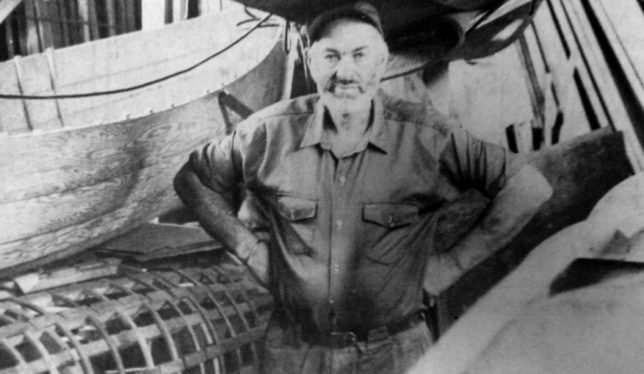 Jack Walker was a one man operation known as Tay Craft Boats, and exhibited those uncompormising qualities of the vanishing craftsman that have made him and his small boat building and repair shop a bit of a tourist attraction in Perth in the 1960s and 1970s. Jack's interest in military boats and boat design in general was spawned during the Second World War when he served on a Canadian warship running convoy in the North Atlantic. Many hours were spent learning about marine design. Jack's first warship replica was built in 1948 and is shown above. His most famous replica warship was the World War II replica HMCS Haida which was built as a 1967 Centennial Project. It almost did not get built as Jack had a hard time securing funds of $700 from the Town of Perth to complete the project. Luckily Town Council granted the money and the ship was built. Terry O'Hearn writes in an aricle about Jack written in 2016, " Perth native Jack Walker won accolades on behalf this small town nearly 50 years ago, when he launched a replica of the tribal class destroyer HMCS Haida in time for Expo 67 in Montreal.  The Perth Courier of October 5, 1967 carried a front page story informing citizens that:  "Perth's Haida continues to bring honour and distinction to Perth.  The World War Two replica – built by Jack Walker – this week added yet another honour to its laurels when Mr. Walker was informed he would receive a plaque for having the most unique boat to visit Expo 67 during the month of August.
Jack built a smaller replica of the destroyer HMCS Sioux, when he was employed by The Courier as a reporter.  He had also been employed there before serving in the war.  The Sioux replica occupied a berth in the Tay Basin for many years, and was still floating when the Haida was created in 1967. He specialized in St. Lawrence skiffs, and many of his boats are still plying the Rideau and St. Lawrence systems.  John Weston "Jack" Walker passed away on December 10th, 2009, at age 85 in his beloved home town of Perth."
SOPHIA HAGGIS
James Haggis began his candy store in Peterborough in the early 1900s then moved to Port Hope and then to Perth where they were located for over 50 years at 60 Gore Street. Sophia carried on the tradition and became a well known fixture in Perth and made the same candy her father made. The first store in Perth in 1926 was in the lobby of the Balderson Theatre. Sophia played the piano at the theatre with Lawrence Consitt. That same year with the assistance of Mrs J A Stewart Sophia started a ladies softball league. Sophia took over the business in 1957 making all the same kinds of cany in the same old fashioned traditional ways. Some of the original equipment still used included copper kettles with wooden paddles, an original four by six foot marble table and steel hooks to pull taffy. At Christmas she made up to six foot candy canes and at Easter she produces solid chocolate bunnies and large decorated eggs. Other mouth watering morsels were Saltwater Taffy, chocolate dipped nuts of all kinds, American taffy, fudge in a variety of flavours and her specialty Hoarhound. Hoarhound is a locally grown herb which when stewed and strained hardens and is used for sore throats and colds. On the 75th Anniversary of her business in 1983, Sphia was asked to display her talents at the Central Canada Exhibition Heritage Village. Well known as "the Candy Lady", Sophia sums it all up by saying, "People come and say it's the only place in the country to buy homemade candy".
ROBERT VAUGHN
TITANIC SINKS, APRIL 15TH This was a memorable event for a Perth resident, the late Robert Vaughan. Mr. Vaughan was an 18-year-old steward aboard the Cunard Liner RMS Carpathia the vessel that rescued 205 survivors of the Titanic. In a Perth Courier interview, Mr. Vaughn recalled, "That day is indelibly stained on my mind and always will be. It was the biggest event in my life". Mr. Vaughan was born in Chorley, Lancashire, England and spent most of his early years in Liverpool. In 1912, he signed aboard the RMS Carpathia, a liner which ran between New York and Mediterranean ports. On April 11, the Carpathia left new York bound for Gibraltar, Genoa, Naples, Trieste and Fiume, but on April 15 just after midnight, the ship received a distress signal from the Titanic. Mr. Vaughan said that they were awakened and told to go on deck, get blankets from the lockers and set the tables in the dining room. It was then that Captain Arthur Rostron told the crew he was answering an SOS; the Titanic had struck an iceberg and the Carpathia was going to her aid. Around 4am the Carpathia found itself at the scene of the disaster. Mr. Vaughan saw the first boat load of survivors and as dawn approached he could see other lifeboats scattered among the icebergs. The Carpathia headed back to New York with the survivors. Each member of the crew was presented with a bronze medal for "gallant and heroic services" by Mrs. J.J. Brown, a Denver millionairess who was one of the survivors of the Titanic and who became famously known as "Unsinkable Molly Brown." Afterwards, Mr. Vaughan decided he wanted to go back to England and therefore transferred to the S.S. Caronia to sail to Liverpool. Back home he then pondered whether to go to Australia or Canada and he chose the latter as he had a cousin living in Wemyss just west of Perth. He sailed for Canada in 1912 and lived the rest of his life in the Perth area. Mr. Vaughan was a 35-year employee for Tayside Textiles.
Interesting side note on the Carpathia. On it's way to save survivors the Carpathia had to dodge many icebergs in it rescue efforts but ultimately could not evade German torpedoes. On July 17, 1918 the Carpathia was part of a convoy to Boston when it was sent to the bottom of the ocean by a German submarine. All of the ship's 57 passengers escaped in lifeboats and all but five of its 223 in crew survived, with the only casualties perishing on impact of the three torpedoes that ultimately sent Carpathia to the bottom.