Amateur sport has played a major part in the history of Perth and the importance of unity of the Community and Community Spirit. Whether it was sporting activities in High School, organized leagues in winter and summer or just recreational, sport affected all in the community as participants and spectators.
---
HOCKEY
THE PERTH CRESCENTS HOCKEY CLUB c.1903
THE MACLAREN BROTHERS HOCKEY TEAM 1903
SHAMROCK TOWN LEAGUE TEAM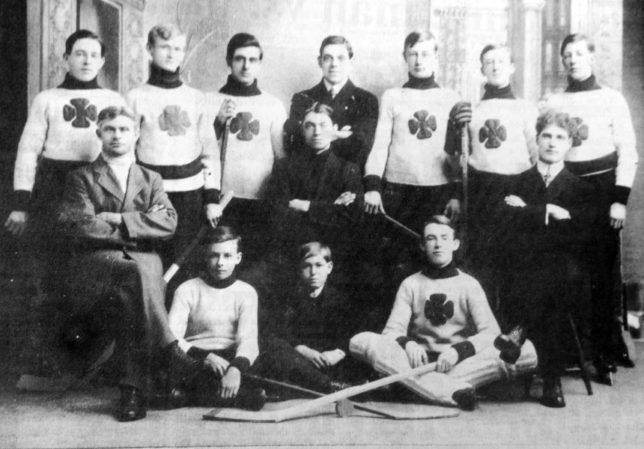 PERTH CRESCENTS, SENIOR EASTERN ONTARIO O.H.A. CHAMPIONS – STANLEY CUP SEMI-FINALIST – 1904
PERTH CRESCENTS RUN FOR THE STANLEY CUP
THE PERTH COURIER, FEBRUARY 19, 1904
The citizens of Perth and district have had their chance of witnessing the two articles of hockey played by the senior teams of Eastern and Western Ontario, represented by the Perth Crescents and Toronto Marlboros, and no doubt have their conclusions. The first meeting of the two teams took place in Perth on Tuesday evening in the big rink, which was extra well lighted considering the poor lights one gets these days and the end found the Marlboros ahead with six goals. Both sides and both ends of the rink were crowed and a conservative estimate of the crowd is put at 1,500. This season was Perth's first experience in the O.H.A., the premier association of its kind in Canada, and assuredly it has been a profitable one. The Crescents proved their title to the champions of group two met the winners of group one and handily disposed of them, and reached the coveted ground of being in the finals. The town now takes its proper place as the leader of all the Ontario towns and smaller cities in amateur hockey, a position, by the way, Perth citizens have of recent years believed was theirs. The honor is all the more acceptable, won as it is by Perth boys under a Perth management. It was not expected when the Crescents entered the O. H. A. that the trophy would come to Perth followed ten days later by the Stanley Cup, but the past record of the locals was sufficient reason to hazard the prophecy that they would have a look in at the finals and give their opponents a good argument. The prophecy has come true and the Town of Perth is content. Tuesday night's game is not a surprise to the admirers of the Crescents and therefore not a disappointment. The Marlboros, who are the fastest team in the O.H.A., did not have it all their own way, as the score might indicate. The visitors were the fastest bunch that Perth has yet run up against, and know the science and nice points of hockey. They were held down well during the first half, and things were moving along evenly during the first fifteen minutes of the last half, of play, and undoubtedly would have likewise ended, had not Perth's swift left wing Rooney met with an unfortunate accident. He was caught in between Frank McLaren and Doc Wright and received the full force on his kneecap of a hotly shot puck at short distance from Wright's stick. The mishap compelled him to retire from the game, although against his own wish, and to even the teams, Winchester, a junior, was dropped, and Perth get a disadvantageous rearrangement. The tactics went wrong, and the goals came thick and fast on lightning-like combination of Phillips and Birmingham, 'Twas thus Perth lost.
P. C. I. HOCKEY, 1906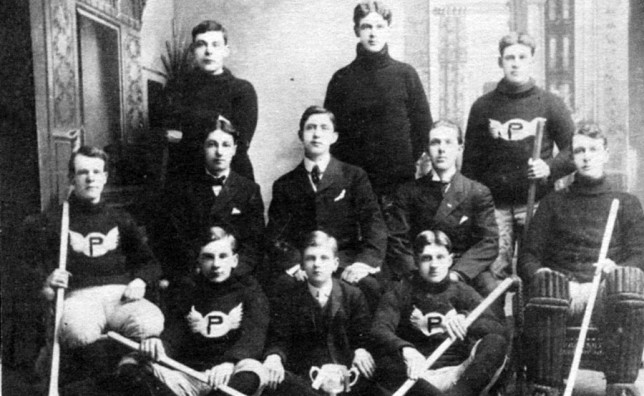 PERTH PRINTERS HOCKEY TEAM 1909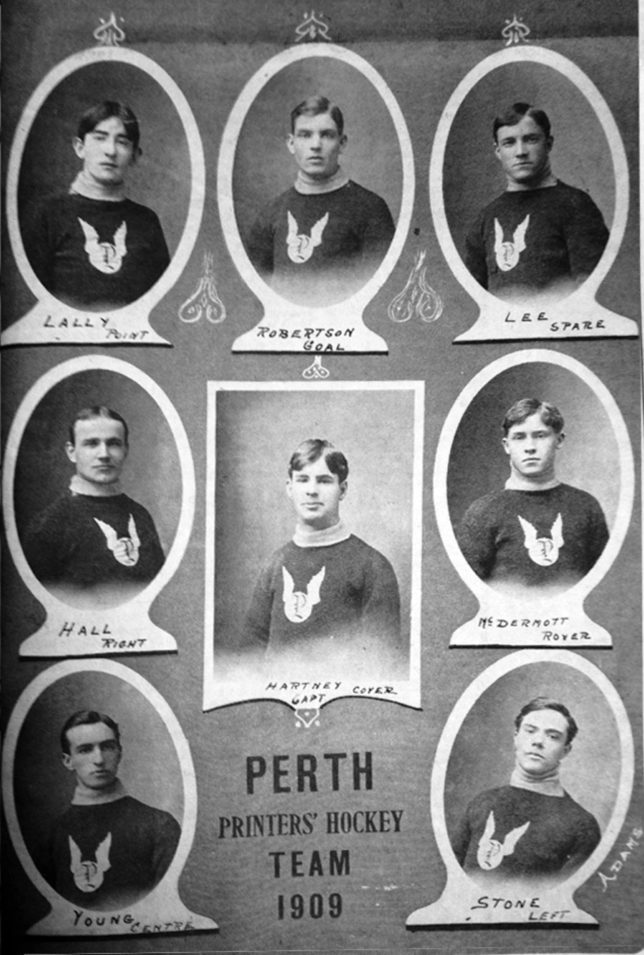 P.C.I. HOCKEY 1911
P.C.I HOCKEY 1912
THISTLE HOCKEY CLUB of the TOWN LEAGUE c.1912
PERTH CRESCENTS HOCKEY TEAM 1911-1912
THE N. B. NICOLL SHEILD
PERTH COLLEGIATE INSTITUTE JUNIORS – 1922 TOWN LEAGUE CHAMPIONS
PCI SENIOR HOCKEY 1921-1922
PERTH JUNIOR TOWN LEAGUE CHAMPIONS • ST. JOHN'S SCHOOL 1921-1922
P.C.I. JUNIOR HOCKEY TEAM CHAMPIONS 1923
PERTH SENIOR HOCKEY CLUB  CHAMPIONS 1922-23
ST. JOHN'S SEPARATE SCHOOL HOCKEY TEAM 1926
PERTH CRESCENTS TOWN LEAGUE CHAMPIONS 1927-28
PERTH COLLEGIATE GIRLS HOCKEY TEAM TOWN LEAGUE CHAMPIONS 1927-28
PERTH CRESCENTS c.1930
PERTH JR. HOCKEY CLUB 1930
PERTH CRESCENTS SENIOR HOCKEY TEAM 1933-34 – FINALISTS IN RIDEAU HOCKEY LEAGUE
PERTH JUNIOR HOCKEY TEAM 1935-36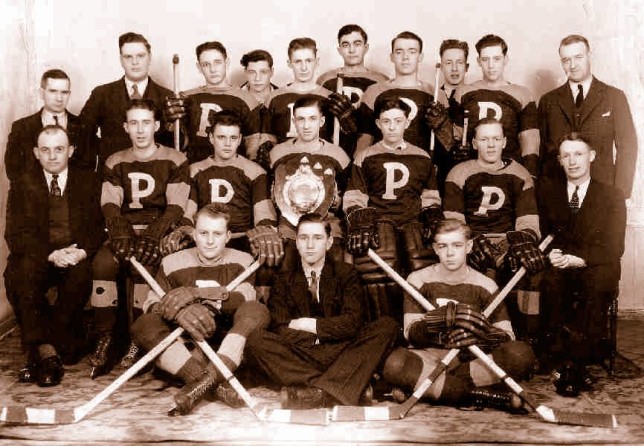 PERTH SHOE COMPANY HOCKEY CLUB INDUSTRIAL LEAGUE CHAMPIONS 1936.
1936 LANARK COUNTY CHAMPS
PERTH JUNIORS LANARK COUNTY CHAMPIONS, OTTAWA DISTRICT CHAMPIONS, CITIZEN SHIELD WINNERS. 1936-1937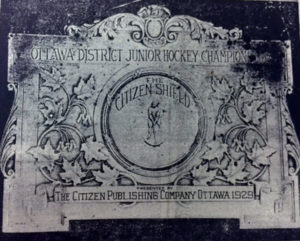 The Citizen Shield, emblematic of the Ottawa District Junior Championship. By winning it with a round score of 9-3 over Renfrew, Upper Ottawa Champions, Perth Juniors qualified for the Ottawa and District playoffs. Perth Juniors who, in their triumphant progress to the Memorial Cup Playoffs were halted only by the one goal lead of Ottawa Rideaus, defeated the following teams: Carleton Place, Smiths Falls, Almonte, Brockville, Cardinal, Ottawa Fishers and Renfrew.
THE PERTH BLUE WINGS 1937-38
PERTH BLUE WINGS CHAMPIONS 1938-1939
GLEN TAY HOCKEY TEAM c.1938
PERTH MIDGETS 1946
PERTH JUVENILES 1946
P.M.H.A JUNIORS  – LANARK COUNTY CHAMPIONS 1945-46
PERTH MIDGETS 1947
PERTH JUVENILES 1947
PERTH SENIORS, LANARK COUNTY CHAMPIONS 1947
PERTH CRESCENTS 1948-49
PERTH MIDGETS, O.D.H.A. FINALISTS 1949-1950
PERTH JUVENILE LANARK COUNTY CHAMPS 1950-51
GLEN TAY HOCKEY TEAM – 1951
THE PERTH MERCHANTS' HOCKEY TEAM, TOWN LEAGUE CHAMPS 1952
PERTH JUNIOR BLUE WINGS 1952-53
MINOR HOCKEY LEAGUE COURIER TROPHY WINNERS 1955
WINNERS OF THE JAMES BROTHERS TROPHY, MIDGETS, 1955
PERTH BLUE WINGS HOCKEY TEAM RIDEAU CHAMPIONS 1957 
RUBINO'S IGA HOCKEY TEAM 1956-57
PERTH BLUE WINGS 1958 CHAMPIONS OF LANARK AND LEEDS COUNTY
PERTH PEE WEE ALLSTARS 1959
PERTH BANTAM ALL STARS 1960
PONY HOCKEY AT PDCI OUTDOOR RINK 1962
Perth Juveniles 1963-64 O.D.H.A Eastern Ontario Champions
BANTAM DIVISION CHAMPIONS, RED WINGS 1963
THE BLACK HAWKS, PONY LEAGUE 1963
THE CANADIENS, PONY LEAGUE 1963
THE LEAFS, PEE WEE LEAGUE 1963
THE BEARS, PEE WEE HOCKEY LEAGUE 1963
THE TIGERS, PEE WEE HOCKEY LEAGUE 1963
THE BRUINS, PEE WEE CHAMPIONS 1963
THE BRUINS, PONY HOCKEY LEAGUE 1964
THE RED WINGS, PONY HOCKEY LEAGUE 1964
THE CANADIENS, PONY HOCKEY LEAGUE 1964
PONY HOCKEY LEAGUE ALL-STAR TEAM 1964
PEE WEE LEAGUE CHAMPS. THE LEAFS, 1964
PEE WEE ALLSTARS 1964
HOCKEY TROPHY WINNERS 1964
PERTH OLDTIMERS 1965
PERTH PEE WEE HOUSE LEAGUE TEAM 1965
PERTH PEE WEE ODHL EASTERN ONTARIO CHAMPIONS 1964-1965
PERTH BLUE WINGS 1964-1965
PERTH BLUE WINGS 1966-1967
PERTH JR. RED WINGS 1968
PERTH JR. BLUE WINGS 1970-71
PERTH BLUE WINGS 1973-74
NHL OLDTIMERS VS. THE PERTH SELECTS 1977
HOCKEY NOTABLES
GENE CHOUINARD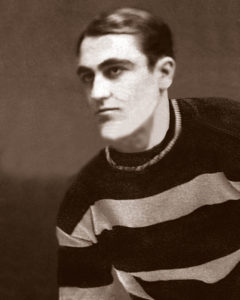 Ontario's Gene Chouinard, born on January 5th, 1907, spent four seasons playing senior hockey in his hometown of Ottawa before heading to Minnesota's hockey hotbed of Eveleth-Hibbing for one season, then another year in Niagara Falls before joining the NHL back in Ottawa.
Chouinard, nicknamed "Noisy" played 8 games with the Ottawa Senators in 1927-28 without registering a point. Though that would be all for Chouinard in terms of his NHL career, he did play eight more season of hockey with stops in New Haven, Tulsa, London and the Bronx.
In 1936, Chouinard retired as a player to accept a coaching job with the Perth Blue Wings of the Ottawa senior league. The following year he put the skates on one more time to play a single game with Perth, then retired for good.
Chouinard passed away on January 29th 1951.
LES DOUGLAS
Les Douglas Stats: http://www.nhl.com/ice/player.htm?id=8445946&docid=TeamPlayerBio:31847#&navid=nhl-search
COLLEGE HOCKEY STARS 1955
FLOYD SMITH
Floyd Smith Stats: http://www.nhl.com/ice/player.htm?id=8449074&docid=TeamPlayerBio:32944#&navid=nhl-search
JACK SMITH
GORD SMITH
Gord Smith Stats: http://www.nhl.com/ice/player.htm?id=8451529
 BILLY SMITH
Billy Smith Stats: http://www.nhl.com/ice/player.htm?id=8451525&docid=TeamPlayerBio:5353#&navid=nhl-search
---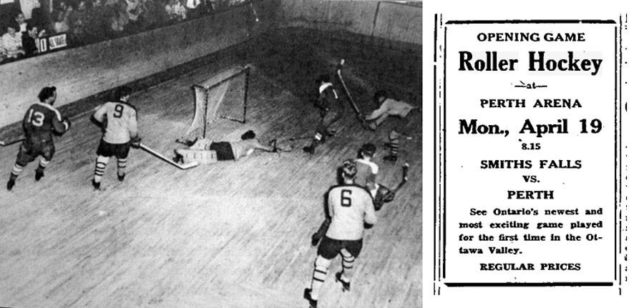 ROLLER HOCKEY IN PERTH
Roller Hockey was introduced to Perth residents in 1948.
The Perth Courier, April 22, 1948: Over 200 people witnessed the inaugural game of roller hockey between the Perth "Flyers" and the Smiths Falls "Rideau Rollers" at the Perth Arena and all who attended seemed to enjoy themselves. After Mayor John Pennett tossed in the first puck, the game was on! Starting action was slow, but the boys soon got the "feel" of the rollers and wound up a "slambang" game with the score of 5-2 in favor of the Smiths "Flyers". Perth's team – Goal, McDougall, defense, Cowie, Stewart, forwards R. Stewart, Earl, Murray and subs McGlade, Devlin and Kane.
There were other teams in the league, Perth's "Blue Bombers", coached by Rusty White, and Smiths Falls "Panthers". By the early 1950s the popularity of roller hockey and roller skating in Perth was in decline.
BROOMBALL
ST. JOHN'S SEPARATE SCHOOL BROOMBALL 1921
---
CURLING
PERTH CURLING CLUB WINNERS OF THE LORD CALVERT TROPHY 1955
The Perth-Upon-the Tay Curling club was first formed in 1875. Twenty men contributed $20 to build the first rink on a lot on Herriott Street. Adequate light was an issue at the time so curling became a daytime sport. In 1919, the Perth Curling Club was incorporated and two sheets of ice were provided in a frame ring built beside the Tay Canal. In 1953 a concret block building housing tree sheets of artificial ice which replaced the frame rink.
NATIONAL FILM BOARD OF CANADA – THE CURLERS 1955
---
BASEBALL
PERTH BASEBALL c.1980s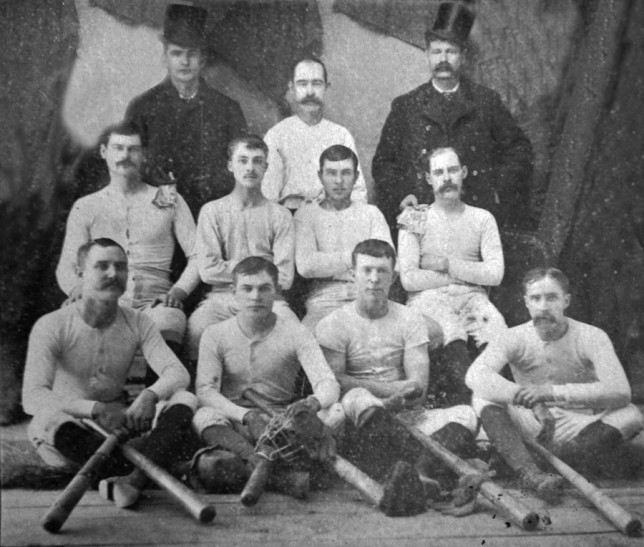 PERTH BASEBALL 1887-88
PERTH CHAMPIONS 1897
SCOTCH LINE BASEBALL TEAM C.1902. 
WAMPOLE BASEBALL TEAM 1910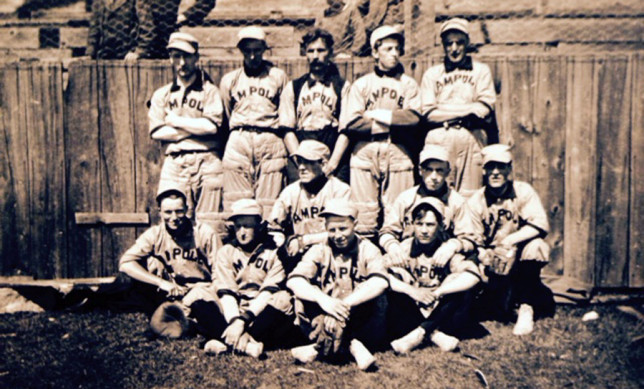 RURAL LEAGUE CHAMPIONS 1910
PERTH JUNIOR BASEBALL CLUB 1916.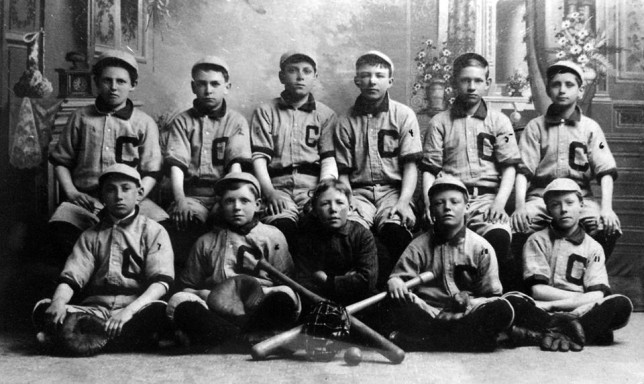 ST. PAUL'S SOFT BALL TEAM 1928
PERTH BASEBALL TEAM 1930
CANADIAN AMERICAN BASEBALL LEAGUE CHAMPIONS 1936
CORNWALL – PERTH BISONS 1937
1930 CHRISTIE LAKE BALL CLUB
PERTH RED WINGS SOFTBALL CLUB 1946
1948 OLD TIME BASEBALL TEAM • PERTH OLD HOME WEEK
TOWN LEAGUE SOFTBALL CHAMPS 1949
LAVANT BASEBALL TEAM 1951
SCOTCH LINE UNION SOFTBALL CHAMPS 1952-1956
PERTH PEE WEE BASEBALL TIGERS – CHAMPS 1960.
1960 PERTH LEGION LITTLE LEAGUE ALL-STARS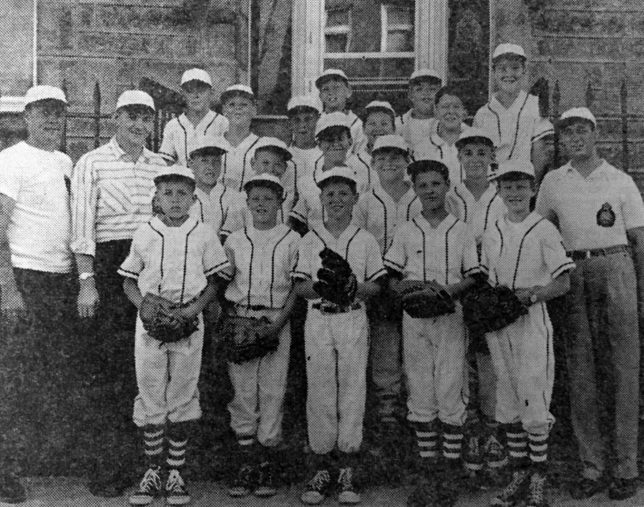 THE PERTH LEGION ALL STARS 1961
1961 MENS TOWN LEAGUE SOFTBALL CHAMPS
1961 PERTH BANKERS SOFTBALL TEAM
TIGERS, 1962, LITTLE LEAGUE CHAMPS, PERTH
RED SOX, 1962 LITTLE LEAGUE RUNNERS-UP. PERTH
1962 PONY LEAGUE CHAMPS
PERTH JUNIOR BASEBALL CLUB 1962
WOMENS SOFTBALL 1963
PERTH BASEBALL TEAM 1964 
PERTH LEGION ALL STARS 1965
PERTH BANTAMS – OBA FINALISTS 1968
PERTH OBA FINALISTS 1968
---
GOLF
LINKS O' TAY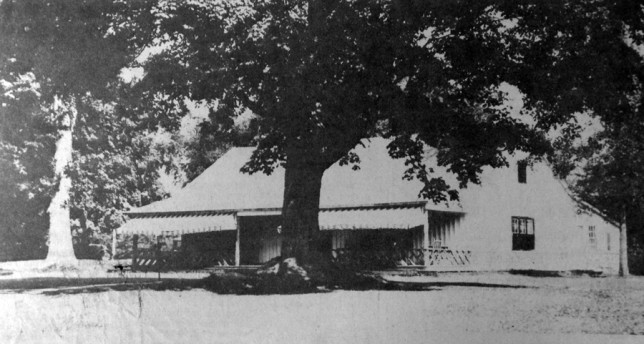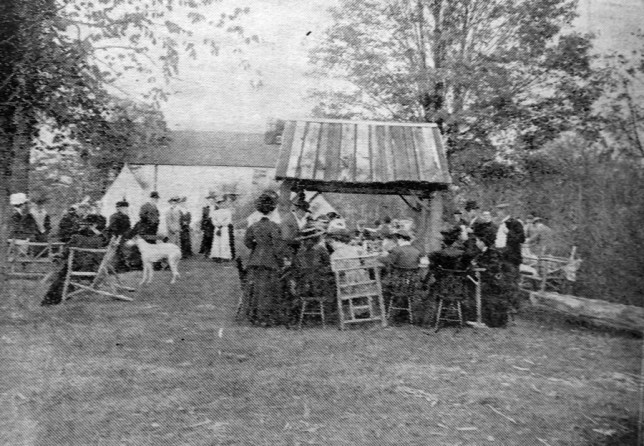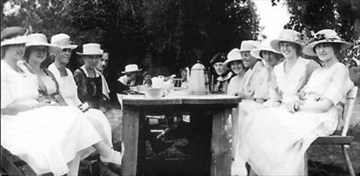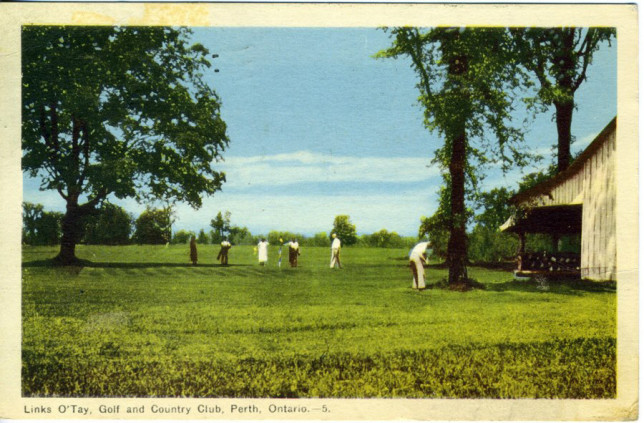 PERTH COURIER 1960. In the 1890's Capt. Roderick Matheson, manager of a local bank was transferred to Montreal and while in Montreal was introduced to the game of golf at the Rouyal Montreal Golf Club. Upon his return to Perth, Capt. Matheson decided that his friends might enjoy this new form of recreation, so he invited them to come up to his form on the banks of the Tay River to try their hand at the game. From this friendly gesture arose the beginning of the second golf club in Canada. The pioneer golfers who accompanied Capt. Matheson were as follows: Charles Stone, T.A. Code, John Code, Judge Scott, W.P. McEwen and Senator MacLaren. From these seven men the Links O'Tay was born.
The course on its first location had several features in its early days that few clubs even in their infancy have now. Cows were employed to keep the fairways in trim and as the greens require a closer clip, they were fenced off and sheep were employed therein. This system of grass cutting naturally led to the existence of one of the first local ground rules, i.e. "The player may remove his ball from rural soil without penalty". One of the first structures erected on the course was the summer house which was located near the present sixth tee and remained standing for well into the 50's. This building was used as the clubhouse for many years until the present structure was erected. In later years the original building served as a golfers' haven during many a summer shower.
On adjacent land to the Matheson farm was located a cheese factory which played an important roll in the manufacture of the Mammoth Cheese which the Perth and District Cheese makers sent to the World Fair in Chicago in 1893. The golf club acquired this land and buildings to use for their clubhouse that is shown above in the picture to the left. In 1957 the club spent over $9,000 in enlarging and improving the facilities of the house. The Links O'Tay considered one of the best nine-hole courses in the county is played twice by members to get the traditional 18 holes of golf in. Why 18 holes? Rusty White says that he has an article that states, "The elders of one of Scotland's oldest and most venerable courses had spend considerable time trying to sort out the issue, when one of the men come up with a solution, "As you know" he said, "It has long been my custom to start out a game with a full bottle of Scotch Whisky in my bag and of treating myself to a wee nip at each tee. Naturally I find it pleasant to play gold=f so long as there is a drink left in the bottle. I have found that one bottle will bill a shot glass 18 times, so it has been my custom to play 18 holes each afternoon. No more, no less".In the earlier days of the club the young boys of the town learned the game by working as caddies. However, unlike today's caddies, their job was to go ahead of the play, locate and set the balls for a good lie. They were known as Fore Caddies.
A great many holes-in-one have been fired at the golf club, with Rusty White leading the way with three. Since records were not kept of persons accomplishing the feat the following is probably not a complete list. They were: James Healey Bill Lipka, Jack Wier, Richard Mills, Bert Beatty, Dr. D Craig, A.J. Sidall, Gene Chouniard, Alan Code, Harold Dramby, Miss Bluhm, Mrs. M Robinson, Mrs. E. McGregor, Frank Jenkins, Fred McEwan, Ted Smythe and Al Vallely.
Golf did not really take off as a sport until after the war. During the war playing golf was not easy as balls were rationed. Players were allowed four balls each and couldn't get new ones until they returned the old ones. In the early 1920's the country club also maintained tennis courts at the premises. In 1946 the pro earned $75 a month salary. The course was one of the first in the region to get a sprinkler system. By 1975 the old clubhouse was gone and a new clubhouse was built on the same location.
1962 WINNERS OF THE PERTH JOURNAL SHIELD
---
TRACK AND FIELD
GLEN TAY BLOCK RACE 1907


The 14.7k or 9.1 miles Glen Tay Block Race was first run on Thursday, October 31, 1907, with Ed Code as the winner. The race was contested as a Thanksgiving day event for several years.
PCI TRACK TEAM 1919
PCI TRACK TEAM 1925  CHAMPIONS OF LANARK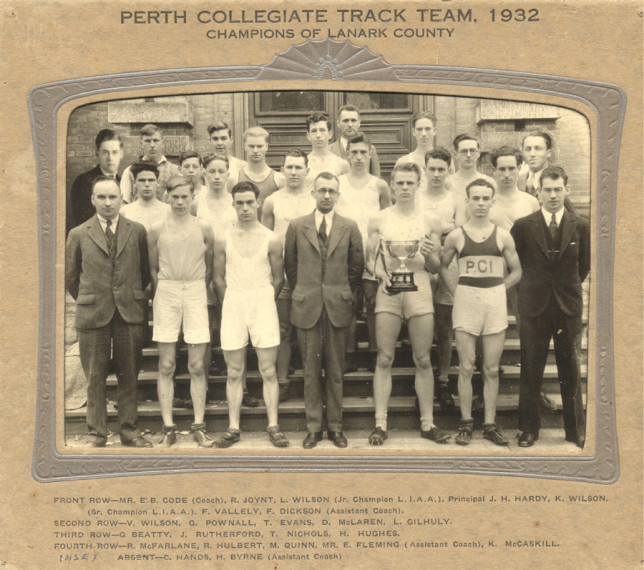 PERTH COLLEGIATE GIRLS' TRACK TEAM, 1932 CHAMPIONS OF LANARK COUNTY
PERTH COLLEGIATE TRACK TEAM 1935 – LANARK COUNTY CHAMPIONS
PERTH COLLEGIATE TRACK TEAM, 1937, LANARK COUNTY CHAMPIONS
---
FOOTBALL
PERTH COLLEGIATE INSTITUTE FIRST RUGBY TEAM 1922
PERTH COLLEGIATE RUGBY TEAM 1926
Perth Collegiate Junior Rugby Team 1934,   Lanark County Champions: Semi-Finals E.O.S.S.A
Perth Collegiate Senior Rugby Team 1935, Champions of Lanark County.
P.C.I JUNIOR RUGBY TEAM, 1938. LANARK COUNTY CHAMPIONS – SEMI-FINALISTS
E.O.S.S.A
EASTERN CANADA INTERMEDIATE FOOTBALL 1938
PERTH COLLEGIATE JUNIOR RUGBY TEAM LANARK COUNTY CHAMPIONS 1939 – E.O.S.S.A FINALISTS
1952 PCI CHEERLEADERS
PCI FOOTBALL 1953
PCI LANARK COUNTY CHAMPIONS 1954
"Most triumphant season in years" says PCI Principal. In a hard-fought game in Perth the Perth Collegiate football players really turned on the steam to take the Lanark County championship by a score of 12-0 against Smiths Falls. This was the first time in more than 10 years that a Perth team played an undefeated season for the championship. Don Bell and Earl Smith were voted as most valuable players for the team. Playing under ideal conditions, PCI's Blake Stewart intercepted a pass in the first quarter and ran 15 yards for a touchdown. Ken Pettigrew also scored the second and final touchdown of the game. The stars for Perth Collegiate were Bill James, Ken Pettigrew, Harry Pownall, quarterback Earl Smith, Don Bell, Tom Stephenson, Blake Stewart, Murray McConell, Harry Irwin, and Dave Sargeant.
PERTH BLUE DEVILS 1958
P&DCI 1961
PDCI BLUE DEVILS 1962
1962-63 PDCI CHEERLEADERS
1964-65 PDCI CHEERLEADERS
1970 PERTH BLUE DEVILS PDCI FOOTBALL 
1971 PDCI CHEERLEADERS
1971 PERTH BLUE DEVILS FOOTBALL CHAMPIONS.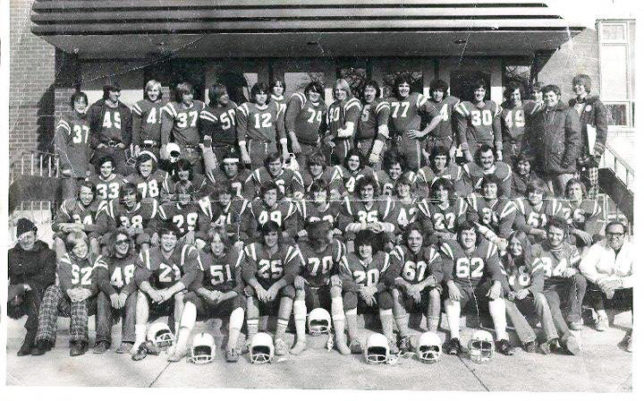 DAN WICKLUM
---
BASKETBALL
PCI 1910
BERKERSHIRE CUP WINNERS 1920
1920 PCI GIRLS BASKETBALL
LANARK COUNTY CHAMPIONS 1922-23
1923 PCI GIRLS BASKETBALL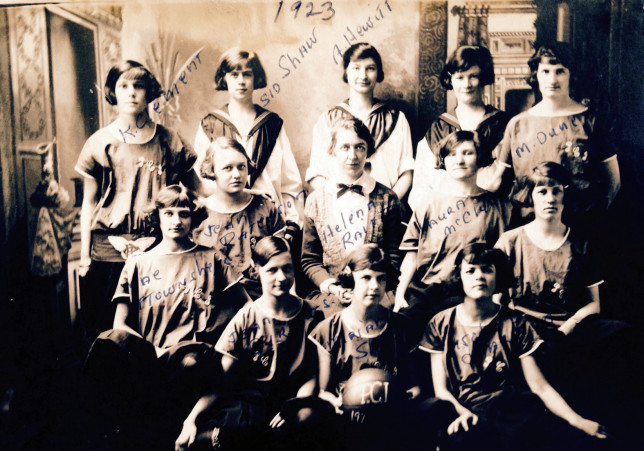 PCI GIRLS BASKETBALL LANARK AND LEEDS CHAMPIONS 1924-25
PERTH COLLEGIATE GIRL'S BASKETBALL TEAM, LANARK COUNTY CHAMPIONS 1927-28
LANARK COUNTY CHAMPIONS 1939
LANARK COUNTY CHAMPIONS 1947-48
PDCI JUNIOR BASKETBALL TEAM 1957-58
1969 PDCI JR. GIRLS BASKETBALL
---
LACROSSE
EXECUTIVE COMMITTEE PERTH LACROSSE CLUB 1894-95
THE PERTH CRESCENTS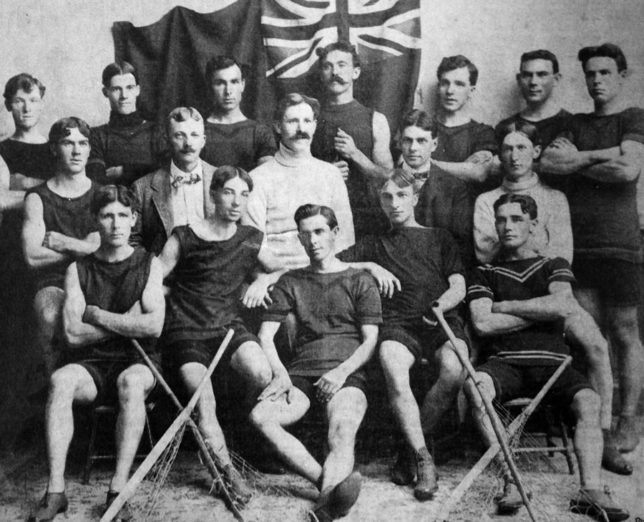 PERTH LACROSSE CLUB 1890
PERTH LACROSSE TEAM CRESCENTS c.1900
PERTH CRESCENTS LACROSSE CLUB 1903 – CHAMPION OF THE EASTERN ONTARIO LACROSSE LEAGUE
UTICA GLOBE 1903: Citizens of Perth are proud of these young athletes. Stalwart members of the Perth Crescent Lacrosse Club.
The Perth Crescent Lacrosse Club has an enviable reputation in lacrosse circles all over Ontario, not only because of the club's fine record of 1903, but because of its splendid work since its organization about 13 years ago. The Crescents have always been at the top, but their brilliant record of the season just closed stands out as the peer of all previous ones. The clubs composing the E.O.L.L. were: Beavers of Ottawa; Arnprior, Almonte, Carleton Place, Smiths Falls and Perth, and every team except the first mentioned, had a star aggregation of players which is a credit to their respective towns. The Crescents however, were a little better than any of these, and faithful practice together with the assistance of Trainer jack David, landed Perth's pride at the head of the league. Not only have they won the championship trophy but the Ottawa Journals set of individual cups, presented to the team securing the great number of goals  gin the league series. As to the players, they are all Perth boys, playing the game for the pleasure there is in it, and Perth people claim that they are industrious gentlemanly athletes. They are an honour to the town they live in and the citizens of Perth are justly proud of them.
PERTH LACROSSE 1906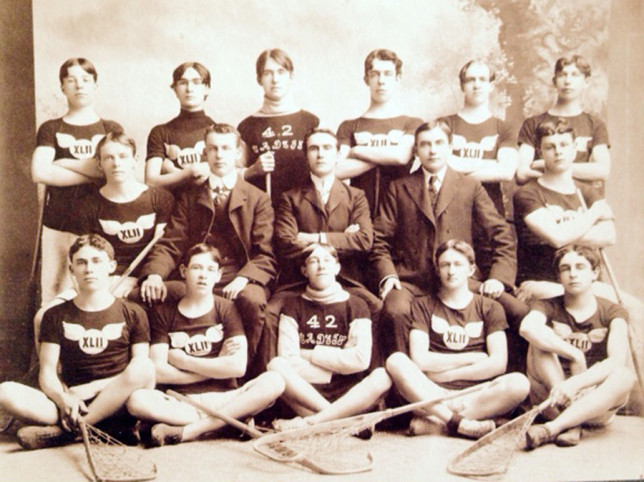 CYCLING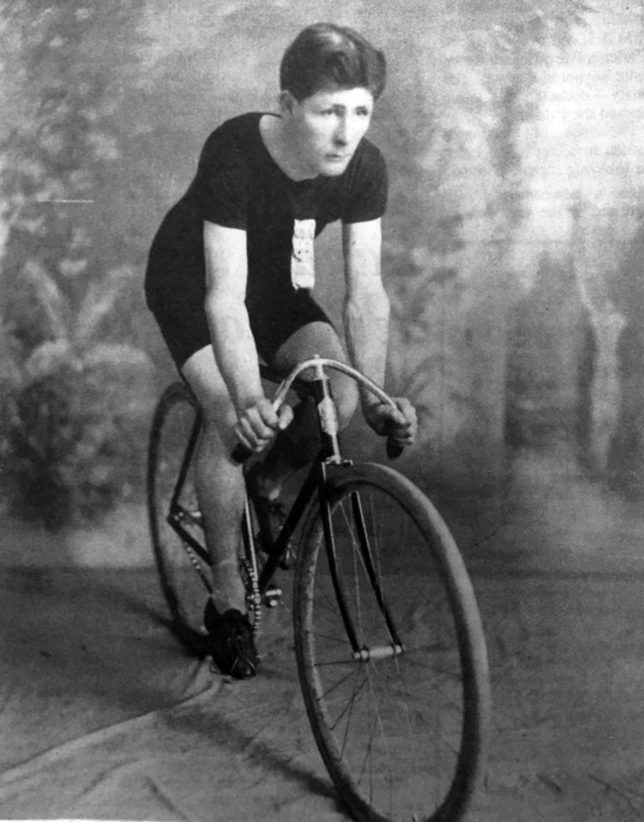 JOHN WILSON. An all-round athlete from a glorious past.
John Wilson excelled in various sports throughout his illustrious amateur career, including hockey, lacrosse and bicycle racing. John Wilson was born October 9, 1879 and passed away December 17, 1963. John was a member of the Perth Crescents Hockey Club, who in 1904, played against the Toronto Marlboros in the Stanley Cup play downs, won the Senior Eastern Ontario Amateur Hockey Championships. John was also the captain of the Perth Crescents Lacrosse Team which, under his guidance over the years, received national recognition for its consistently superior performances. He was avidly interested in bicycle racing and once competed in a bicycle race at Toronto's Woodbine Racetrack. John competed in many major cycling events throughout Ontario and New York state during his competitive years on the racing circuit and he won numerous trophies, prizes and ribbons. Part of his weekly training schedule included round-trip cycle tours to Ottawa and beyond. When John Wilson was not on the athletic field of honour battling for th4 finish line or trying to achieve a winning goal, he enjoyed spending quiet time at Pike Lake. He often stocked the lake with pickerel. John was educated at the Perth Public school and lived on Mill Street in a house opposite to the old swimming pool, long since demolished. John was the youngest member of a family of seven, four boys and three girls. John was employed at the Perth CPR Car Shops and when it closed in 1904 he began working at the car shops in Montreal. Eventually John returned to Perth and began a long period of employment with Code Felt Mill on Rogers Road, retiring as plant manager in the early 1950's after having served the company for 52 years. John and his wife Elizabeth (O'Neil) had two children Ann and Victor. Excerpts from Perth Courier Editorial by Michael Taylor.
---
SOCCER
---
LAWN BOWLING
LANARK COUNTY CAHMPION SNOOKER TEAM 1935
---
BOWLING
THE PERTH BOXING CLUB 1954
---
FISHING • 100 LAKES WITHIN 50 MILES