FAMILY PICTURE ON THE EMON FARM SOUTH OF CALABOGIE
---
LIFE ON THE FARM
PORTABLE SAWMILL 1919
---
BARN RAISING 1886
Barn raising, on the farm of J.D.Moodie, Scotch Line, June 30, 1886. On beam at top, sitting: Jas. Ferrier, John Ferrier Sr., John Palmer, Jas. Robinson. Standing: Robt. McLaren, Abram Ferrier Jr., Harry Acheson, Isaac Ferrier, Alex Moodie, Robt. Strong. Sitting: John McDonald, Albert Wilson, Home Boy (Name not known), Alex Dodds, Jas. D. Allan, Robert Brash, Jas. Wilson. Sitting on beam beside ladder: Jas Cameron, Blacksmith, Fallbrook. Middle beam, standing at left: Andy Turnbull, John Ferrier. Middle beam, sitting at right: R. Davidson, Abe Moodie, Frank Allan Sr., name unknown. Standing on Barn Floor: Geo. Farnell (ed. sitting on chair), Jas. Fraser, Abraham Ferrier Sr., Mac Ferrier, Robt. Allan, Rathwell, Manitoba, Robt. Moodie, Frank Allan Jr., Jas. Moodie, John Allan, Od. Consitt, Chas. Walker, John Armour. Between rows: Wm. Acheson, John Moodie. Sitting on Gangway: T.A. Moodie, John McGowan, Matt Balderson, Issac Ferrier Sr., Barney Hogan, Alex Abercrombie, Sloan (first name unknown). Sitting far right: Jas. Moodie Sr., Wm. Cowie.
WOOD SAWING BEE
---
THRESHING MACHINE c.1914 FRANKTOWN
FARMERS REMOVING ROCKS FROM FIELD 
FARMERS MOVING HAY INTO A BARN
IMMIGRATION POSTER
---
LOGGING IN LANARK COUNTY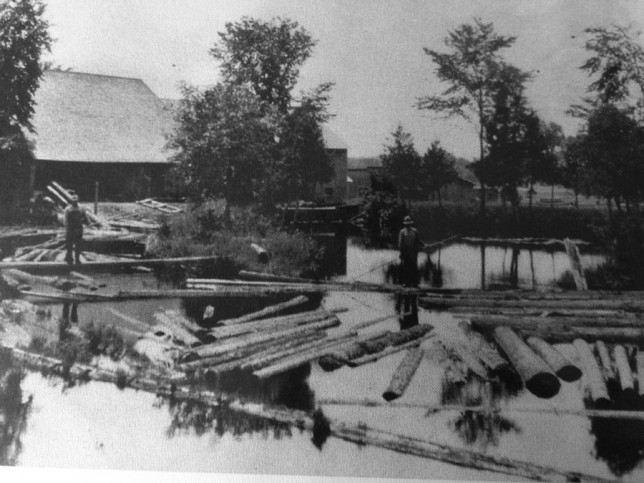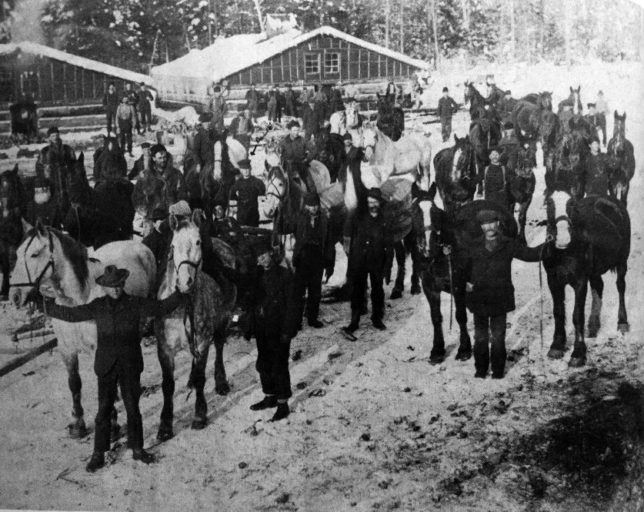 ---
LANARK COUNTY CHEESE FACTORIES
The golden age of the rural co-operatively run cheese factory in Lnark County extended from 1880 to 1920. Milk could not be transported long distances, due to its perishable nature and the lack of refrigerated transport. To prevent inclement weather from playing havoc with the serious matter of weighing one's milk at the factory door, rural cheese factroies incorporated an overhang to protect the farmer and his horses.
SCOTCH LINE CHEESE FACTORY c.1910
SCOTCH LINE UNION CHEESE FACTORY 1932
MIDDLEVILLE CHEESE FACTORY
FALLBROOK CHEESE FACTORY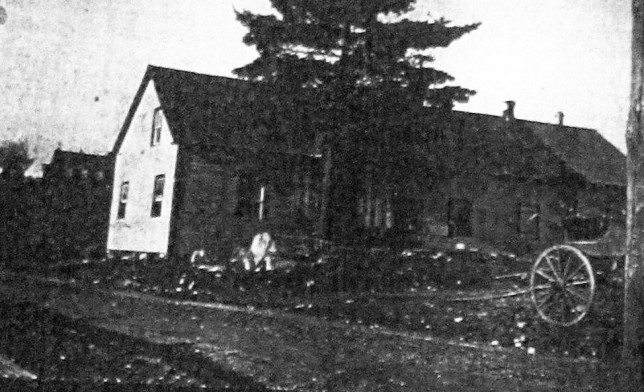 HARPER CHEESE FACTORY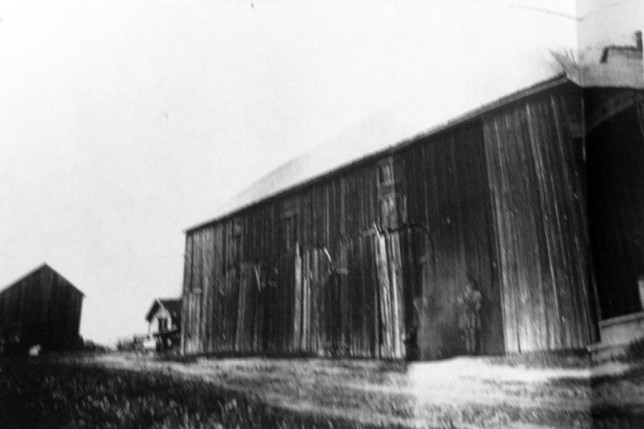 POLAND CHEESE FACTORY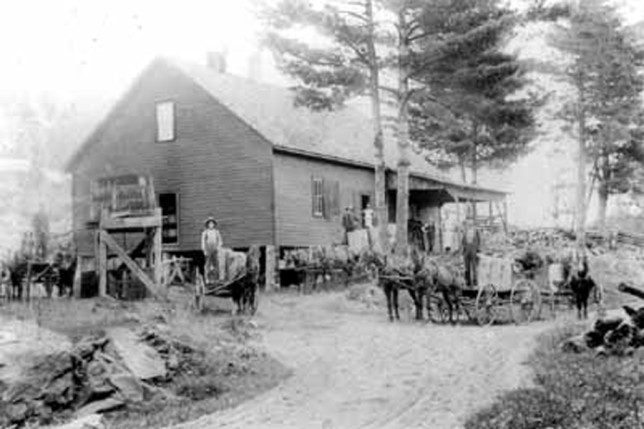 BALDERSON CHEESE FACTORY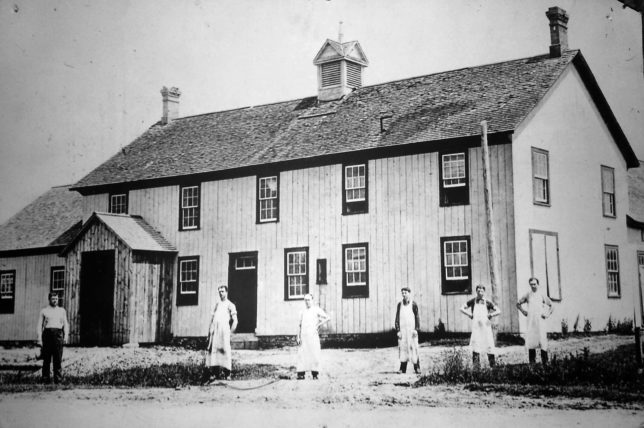 The Balderson Cheese Factory dates back to 1881 and was named after the village of Balderson which was originally founded by Sergeant John Balderson of the British Army. This company was created by fifty one milk shippers who collectively decided to form a dairy co-operative and build their own cheese factorywhich would provide them with a reliable and local market for their milk.The Balderson Corner's cheese factory grew in popularity and prospered over the next decate. In 1892-93 it was one of twelve local factories that was selected to contribute in the making of the Mammoth Cheese which was Canada's unique dairy display at the Chicago World's Fair. The company's development continued without any major setbacks until in 1929 the factory was destroyed by fire. Fourtunately the determination of the shareholders did not falter and rebuildin started immediately. Balderson cheesemakers: W. Brown 1881-1887, J. Milton 1888-1891, W.D. Simes 1892-1901, E.E. Haley 1902-1904, J.M. Scott 1905-1911, T.K. Whyte 1912-1917, M. Haley 1918-1921, A. Quinn 1922-1929, G. Spencer 1930, P. Kirkham 1931-1937, J.L. Prentice 1937-1939, C.J. Bell 1939-1941, J. Somerville 1941-1942, W. Partridge 1943, C. Gallery 1944-1955, R. Lucas 1956-1958, P. George 1959-1960, O. Matte 1961-1966, Y. Leroux 1966-1974, L. Lalonde 1975-1980, N. Matte 1980.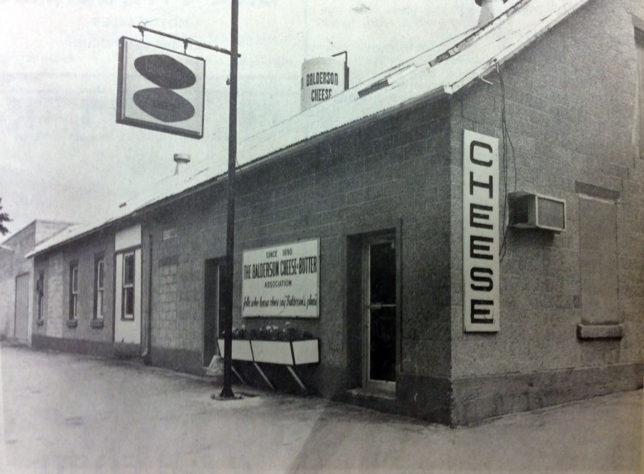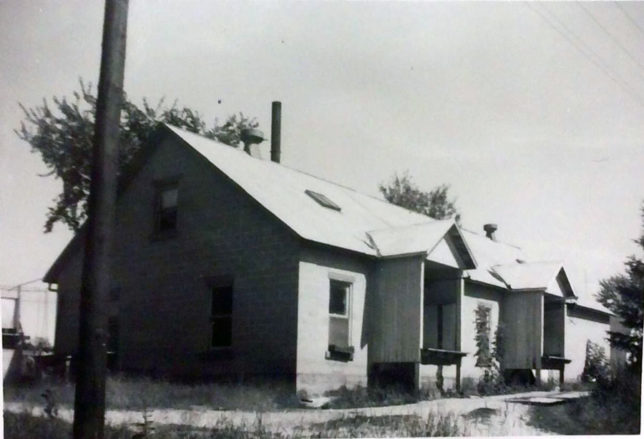 DRUMMOND TOWNSHIP CHEESE FACTORY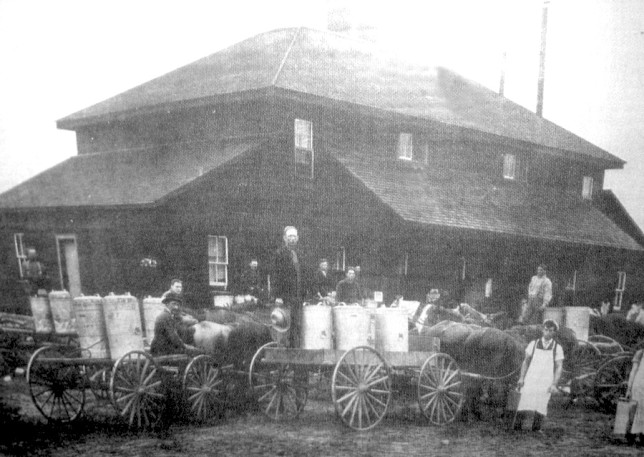 DRUMMOND CENTRE CHEESE FACTORY 1880
LONESTAR CHEESE FACTORY – PORT ELMSLEY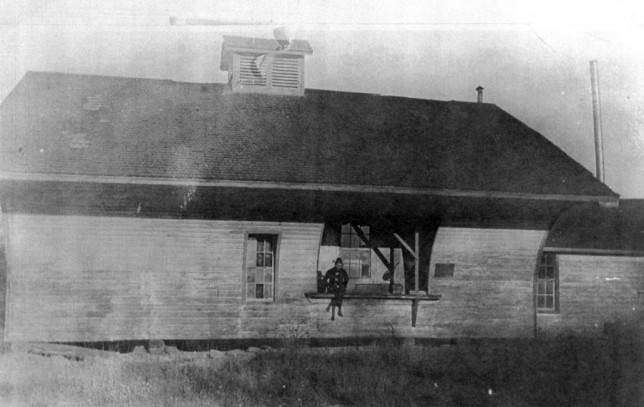 ROSEHILL CHEESE FACTORY 1899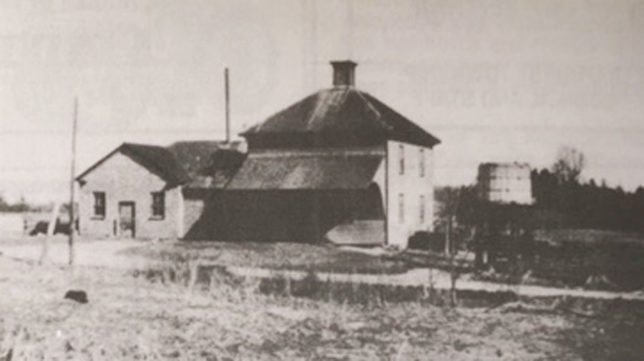 ROSEHILL CHEESE FACTORY c.1910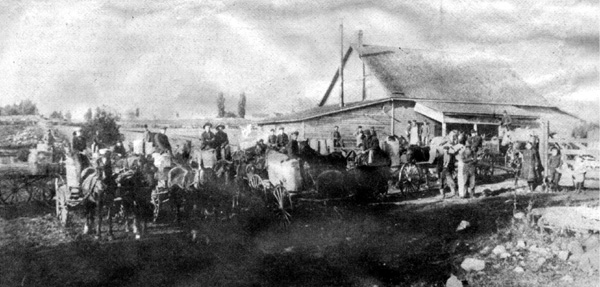 BLACK LAKE CHEESE FACTORY
ALTHORPE CHEESE FACTORY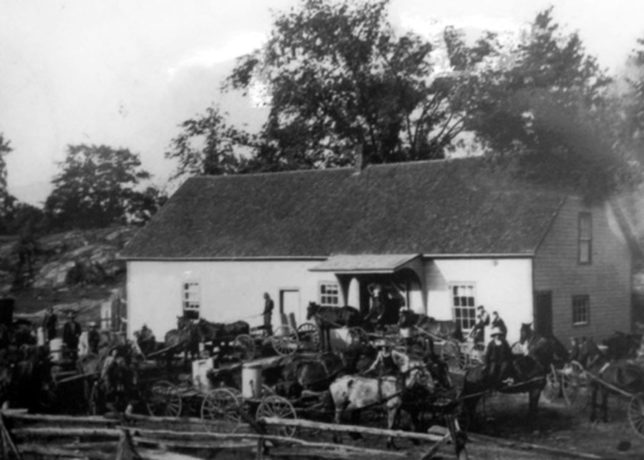 ROSEBANK CHEESE FACTORY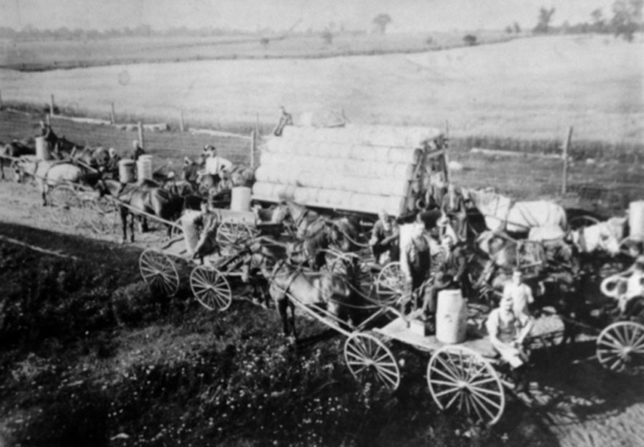 CHAPLINS DAIRY GLEN TAY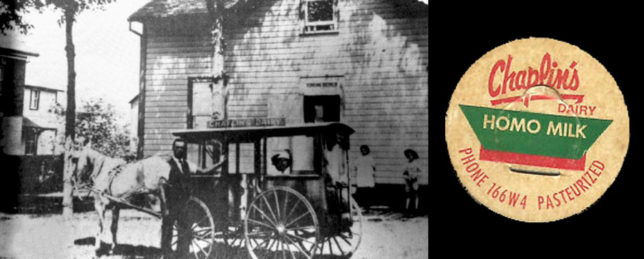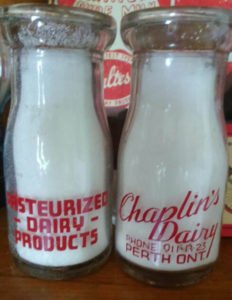 This 1920 photograph shows Edgar Chaplin, Uncle to John and Cameron Chaplin, pausing during a milk run with his horse and wagon. Edgar worked in the business with Delbert Chaplin. The price of a quart of milk in 1935 was 35¢ a quart. In the earliest days of the dairy, started by Delbert Chaplin, milk was distributed with a pint or quart measure by the "milkman" who simply ladled it out of milk cans into whatever container was left out on a front porch or stoop by the customer. The birth of the dairy evolved from a large 300-acre farm owned by the Chaplin family at RR4 Perth. Delbert Chaplin, a progressive man, set up a system so the farm could process its own milk produced by its Holstein cattle herd. He erected a dairy building at Glen Tay in 1935 and the business flourished from there and became a complete family enterprise. The dairy turned out as many as 3,000 quarts of milk a day during the diary's peak production years. They distributed throughout the Perth and district area. Chaplin's Dairy also processed the milk supplied by five neighboring farms in order to keep pace with customer demand. Buttermilk and chocolate milk also left the dairy house for sale. Butter was produced too but never enough to be sold. Chaplin's Dairy was sold in 1977 ending a family ownership of close to 70 years. Story from the Perth Courier.
---
MILLS OF LANARK COUNTY
The following is an account by Mr. Archibald Campbell writes of an interesting tale of industrial effort when the settlement was young: AN ACRE OF HARDWOOD FOR ONE BARREL OF POTASH, Perth Courier, 1934.
To begin with, the clearing of the land with its attendant burning of the hardwood trees, produced large quantities of potash. Later on, in the autumn, after the harvest had been gathered in, and when the farmers had leisure, many of them utilized it making potash, for which there was a great demand. A barrel of potash brought $35 or more, but, as the huge iron kettle cost about $40 many were prevented from engaging in this operation. It took about an are of good hardwood to produce  a barrel of the fertilizer. Great quantities were purchased by the early merchants of Perth, hauled to Oliver's Ferry and Brockville and shipped by boat to Montreal. This industry flourished between 1817 and 1834 – when lumbering operation got under way, furnishing speedy, congenial and fairly profitable employment to the surplus male population.
PERTH'S SQUARE TIMBER. IN the thirties and forties of last century much fine square oak timber was shipped from the Perth Basin to Montreal, en route to England. It had tone rafted with enough pine timber to keep it afloat and wen via the Tay to the Rideau and on to Ottawa and Montreal or  Quebec.
EARLY SAW MILLS. Dr. Thom's mill, built about 1820, was sold to Mr. John Haggart Sr. in 1833. About 1876 it was destroyed by fire. In 1873 the brothers, James and Alexander Allan, who had operated the Haggart mill for a year built a steam saw mill in Carolin Village. In addition to sawing lumber they manufactured barrel staves, hoops and heads. By 1846 there were 31 sawmills in Lanark County.
 PENMAN'S SAWMILL MIDDLEVILLE 1910
FERGUSON'S FALLS SAWMILL
---
ANDERSON'S SAW MILL FALLBROOKE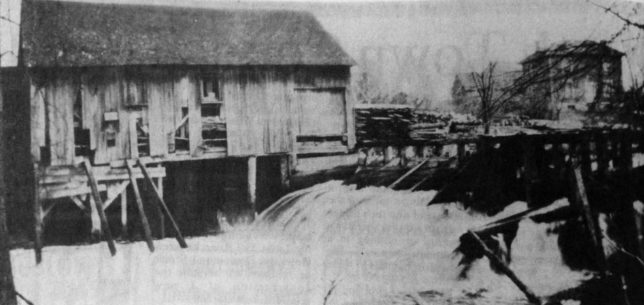 SAW MILL AT ROBERTSON'S LAKE
ADAM'S MILL / RITCHIE'S MILL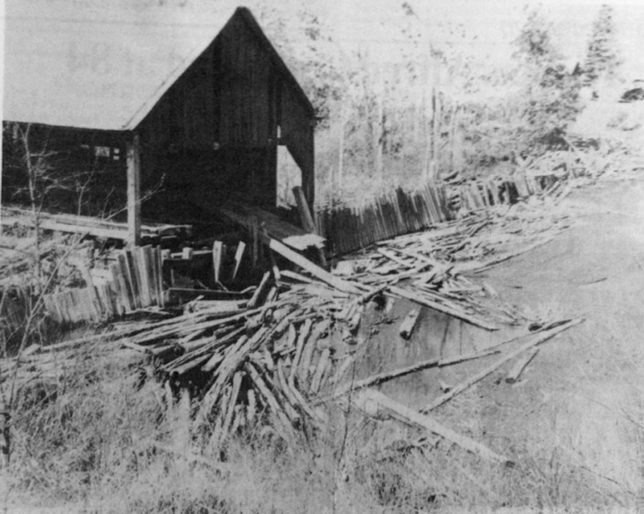 ALLEN'S MILL
William Allan's grist mill on the Tay. Allan was a prominent citizen of North Burgess in the 19th century. Farmer, mill owner, storekeeper, postmaster, councillor and Township treasurer.
BOWES MILL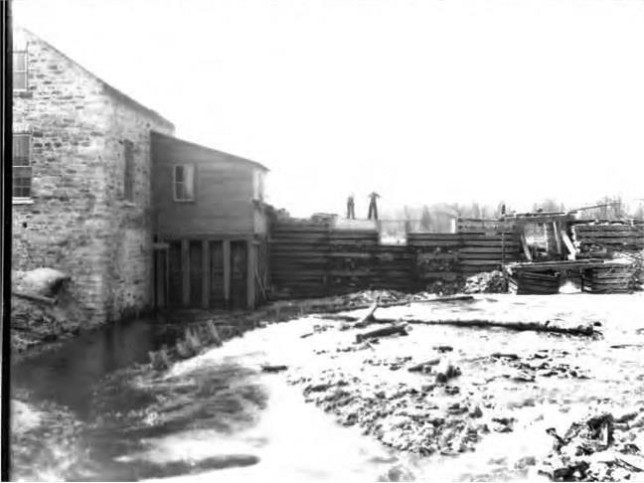 ADAM'S MILL
For more historical information on the Mills of Lanark County visit:
---
BLACKSMITH SHOPS
---
FALLBROOK FAIR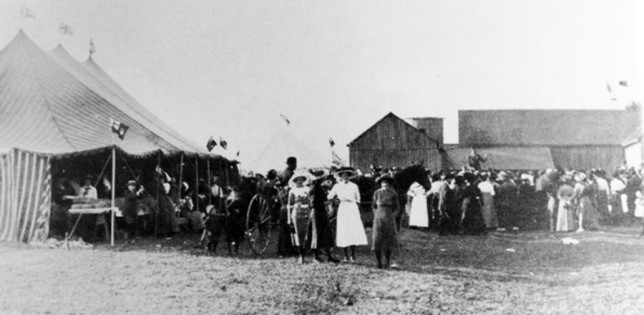 ---
FARMER'S LOG BRIDGE
---
COUNTRY AUCTIONS
Thomas Rutherford Clayton Hands ( Nov. 2, 1915 – Sept. 7, 1980) pursued a career in auctioneering. He established a livelihood in 1938. For 40 years Clayton called square dances and conducted auctions as well. During that time frame he married wife Reta and they had seven children (2 boys & 5 girls). Reta was very busy looking after their children, phones and farm chores. When it came to auctioneering, Clayton had a strong voice that carried well outdoors as well as in buildings. He also possessed wit, charm and a personality that controlled large crowds. He acquired strengths in salesmanship and in the knowledge of articles and their values. He sold everything and anything – household effects, farm machinery, livestock, real estate, tools of the trades and so on……. On June 28, 1954, a documentary film 'The Country Auctioneer" produced by the National Film Board, depicted Clayton Hands, a Canadian, in this interesting and important job.
---
THE SUGAR BUSH
THE MATHER SUGAR CAMP c.1900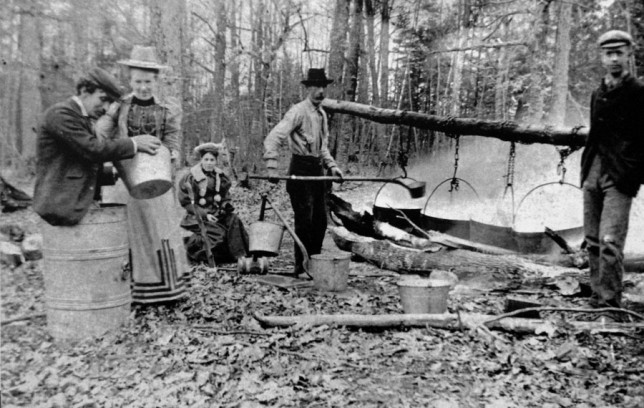 WESLEY BORROWMAN SUGAR CAMP, MIDDLEVILLE c.1900
RANKINS SUGAR CAMP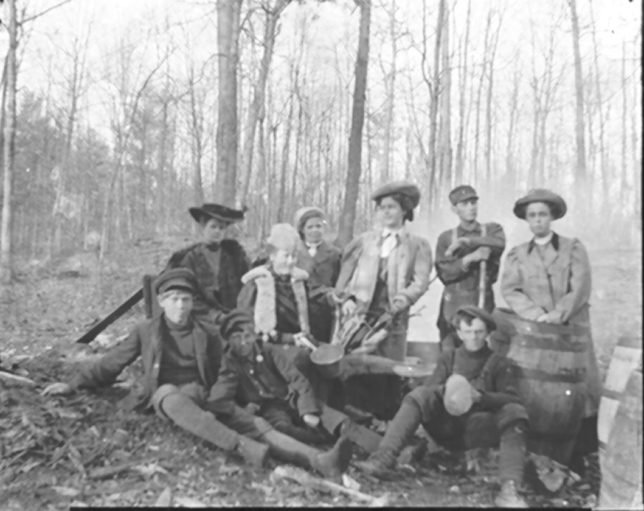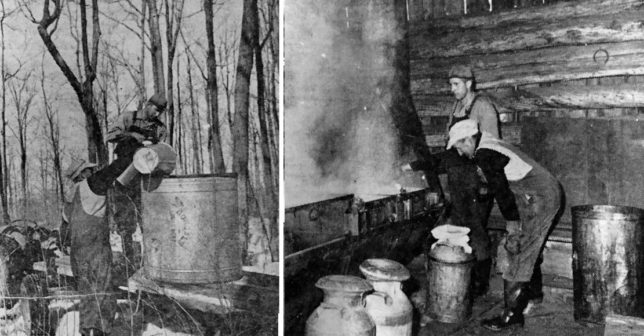 MAPLE SYRUP ON THE SCOTCH LINE 1962
These pictures and story from a 1962 edition of the Perth Courier show Pat Brady of the Scotch Line and his cousin Don Brady of RR3 Perth working hard in their nearby camp. Pat Brady was quoted, "It's a nice day. The wind is blowing south-west, just the way we expected." Don agreed, "The weather is the most important factor in this business. The temperature must be 25 degrees at night and as high as the 40's in the daytime. If the weather stays like that, the trees seem to run much better." The evaporator they were using was built 25 years ago by Matt Dodds. The sugar camp itself is forty years old. Pat Brady explained that the evaporator, which he has been using for twelve successive years, is 12 feet in length and three feet in width. It contains three pans, which are always filled with sap. A maple syrup thermometer is used to measure the right degree of temperature. When the thermometer climbs to 219 degrees Farenheit it means the syrup has reached the right grade, or to be more specific, Mr. Brady gets 13 pounds and three ounces of maple syrup. Thirty to forty gallons of sap (after the evaporation) produces just one gallon of pure maple syrup. At the Brady Camp, they have tapped six hundred and sixty trees and they still do it the old way and have not modernized their camp. In 1961, they sold 125 gallons of syrup in Perth, Ottawa, Prescott and Toronto. The work at the camp was like a full-time job with chores that included gathering the sap, keeping the fire at a constant level and tapping the trees, but the most important aspect is to look after the evaporator to see that it doesn't boil. "It's just like having a day's work in the kitchen." thought both men, while constantly dropping an ey on the syrup making machine. "Pans, sap and syrup…all over the place, but it's fun, though only for two or three weeks every year." Concluded Patrick Brady, who owns the camp.
ICE CUTTING ON THE MISSISSIPPI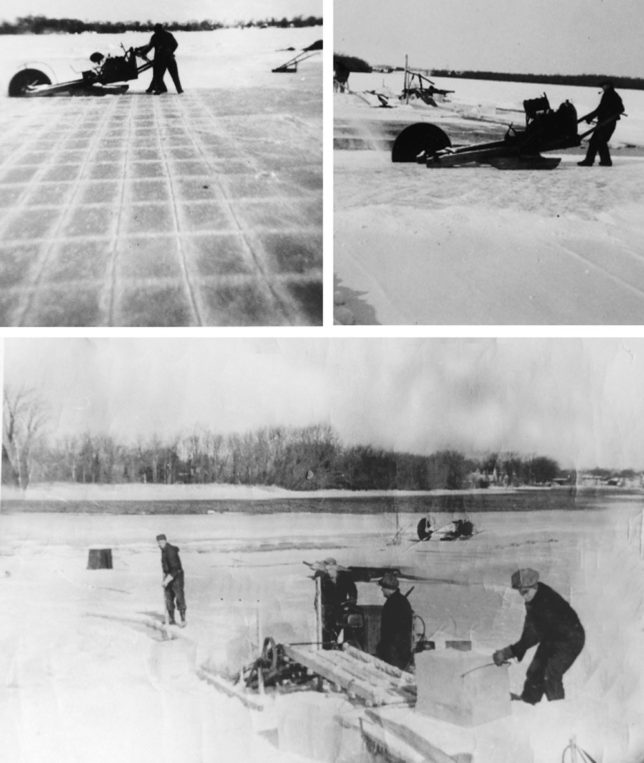 One of the necessary tasks before electricity or later deep freezers was cutting the ice in winter to ensure a good supply of frozen blocks to be available in the warm weather. Picture to the left shows Hollie Lowry cutting the ice on the Mississippi River and shows the ice that has been marked off, marker to the right in the picture, and then the huge cutting machine cutting through the ice. Picture to the right shows Hollie, smoking a pipe, cutting the ice close to shore. Bottom picture shows the blocks of ice loaded onto a conveyer belt then with ice tongs hauled onto the flat bed of sleigh ready for transport to the ice house. I remember the ice house off Rogers Road at the end of John Street by the river. Remember going in there with my Dad in the summer time and mind how cold it was. The ice blocks were covered in sawdust to protect the ice from the heat of summer. I also remember the day it burned down in the early 1960's. There was also an ice house off Beckwith Street near the location of the curling rink. Who remembers ice being delivered to their home to keep their 'ice box' cold?