JOHN A. STEWART PARK
In the centre of the town, comprised of parts of Cockburn and Haggart's Islands, and traversed by the Tay River lies the John A. Stewart Park. It was designed, constructed and for many years maintained by Jessie Mabel Stewart as a memorial to her husband, The Honourable John Alexander Stewart. Born in Renfrew he was educated in Perth and Toronto an called to the Bar in 1895 and practised in Perth until his death on October 7, 1922. He was largely interested in industrial enterprises and was President of henry K. Wamplole Co. Ltd., The Andrew Jergens Company Ltd., and Perth Shoe Co. Ltd. He served the town well as a councillor and as Mayor from 1900 to 1904. Elected to the House of Commons in 1918 he served as Minister of Railways in the Meighen  administration. In 1947 the park was conveyed to the town together with an endowment fund of twenty thousand dollars to provide for maintenance. With admirable taste and prudence the trust deed between the town and Mrs. Stewart provided that the park "will be used and continue to be used as a place of relaxation and enjoyment…and shall not be used for competitive or organized games or sports or for any commercial enterprises for profit or otherwise, nor in any manner which would change alter the present character." The result is a park which "might well be the envy of many much larger cities."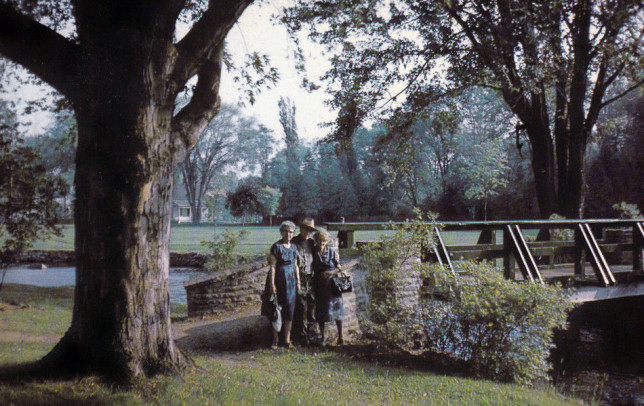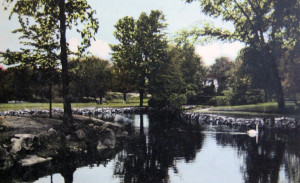 ---
THE LITTLE RIVER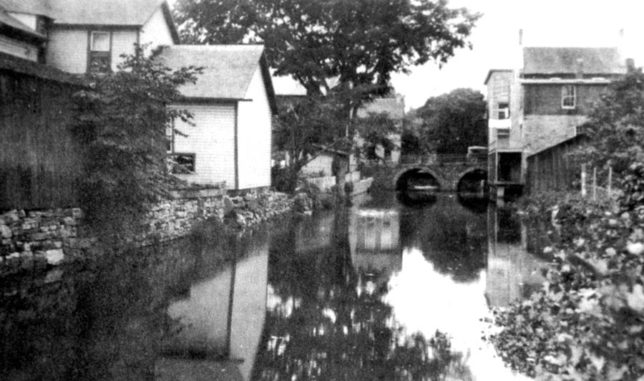 ---
THE PERTH OUTDOOR SWIMMING POOL
---
THE FOOT BRIDGE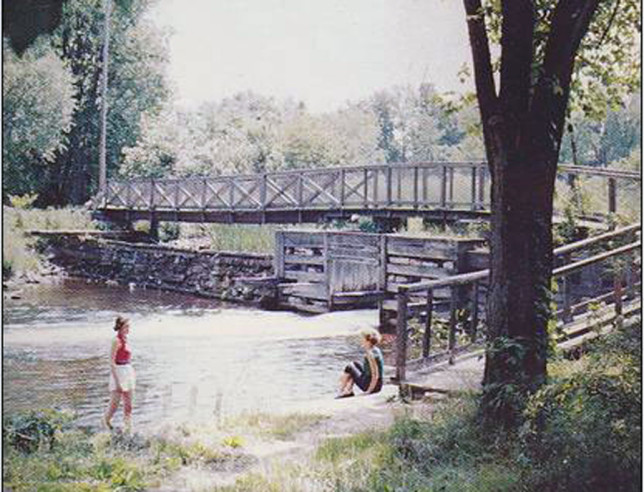 ---
PRETTY SCENE ON THE TAY NEAR THE BASIN
---
TAY BASIN
---
PERTH BANDSTAND
---
PERTH WATER TOWER
GORE STREET BRIDGE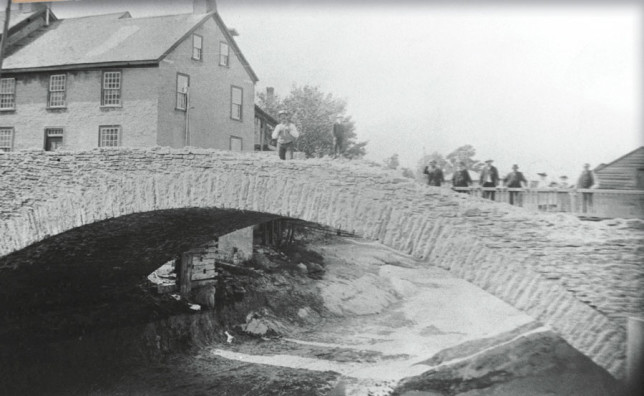 History of the Gore Street Bridge. The Perth Courier, June 13 1957
In 1957 the fifth bridge over the Tay River at Gore Street near Harvey Street was built.
In the fall of 1815 a small group of men worked their way overland from Brockville. These men came ahead of the main group of settlers in order to discover the nature of this land that the Colonial Office in Britain had allotted them sight unseen. They mad camp on the south shore of the Tay River for the night. In the morning they decided to explore the north shore but the river was too deep and cold at that time of year to make it comfortable to walk across. They set to work to cut down a huge elm tree on the river's bank. This tree was the first bridge and it is believed that the firs man to set foot in what is now Perth's business section was Magnus Flett, The stump of that tree was preserved in the basement of what used to be Spalding's Brewery.
The second bridge was built shortly after. The main body of pioneers came up from Brockville in the spring of 1816 and "The Military Colony of Perth" was established. One of the first undertakings of the settlers was to build a log bridge over the Tay. This project was not without incident. One of the workmen, William Holderess "took a violent fit of sickness" from working in the cold water of the Tay. He died as a result and earned the distinction of being the first victim of industrial fatality in Perth. Three months later, in July, 1816, his widow further distinguished the family name by presenting the settlement with its first new born child.
This log bridge served the community until 1832 when work was begun on a stone bridge. The "Old Stone Bridge", as it was known, was a thing of beauty. It was a perfect Roman Arch, not too common even in those days. Most stone bridges rise five or six feet from the river's edge before the arch begins but this bridge was a perfect arch from shore to shore. Because of its beauty and singularity, the bridge brought the town a lot of publicity. Artists came to sketch it, and it was reproduced on tea cups and paper weights. There is an oil painting of the bridge hanging in the Perth Museum.
By the 1890's., the Rideau Canal had long been completed. The Tay Canal was in operation and the present Tay Turning Basin had recently been dredged.
Then, as now, politics took an active part in the lives of the town's people. They were proudly represented in the federal cabinet by The Hon. John G. Haggart, who was Minister of Railways and Canals. It was under his supervision that the Sault St. Marie Canal was built an undertaking that was to bring Canada millions of dollars.
Unfortunately, the beautiful old stone bridge stood in the way of progress. It had to come down to make way for the dredge and for the supply barges that would follow later.
A legend has grown up that the old stone bridge fell down quite suddenly and unexpectedly on sunny summer's afternoon. A great portion of it did fall suddenly, and although some of the workmen had a narrow escape its collapse was not unexpected. The men had been working on the stonework under the bridge. This undermining and the blasting going on about it weakened the structure. The bridge came down on a July afternoon in 1891 at about two o'clock. Shortly afterwards, the river was deepened up to the mill and the new swinging bridge went up. Ironically, this new bridge that had taken so much effort to build, was swung only four or five times. Only a motor launch and occasional barges went up to the mill for supplies. The old mill was finally destroyed in 1948 by a bad fire. Up until that time it had been in almost constant use.
The bridge swung for the last time about 1905. It took eight men to operate it as the weights in the swinging mechanism had fallen off.
Now we are to have a new bridge. The last remnants of the stone bridge are bing torn out and as on so many other occasions in Perth, history is making way for progress.
PERTH AIRPORT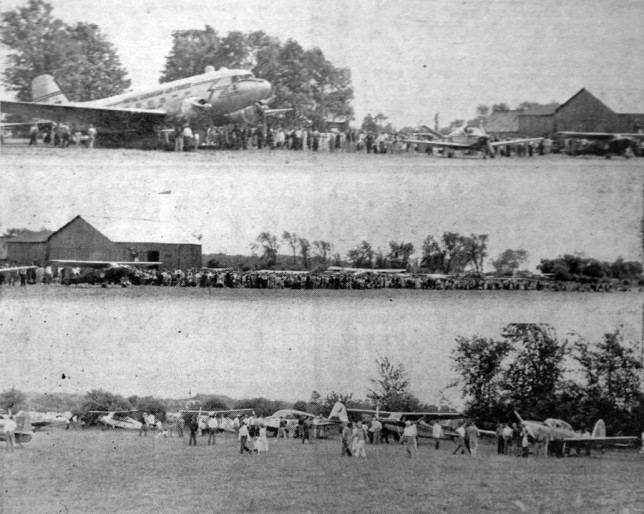 Airfield and hangers on the south side of the Scotch Line and west side of Rideau Ferry Road.
In 1956 the Perth Airfield was opened on Saturday, August 25th. There was a 3,000 foot runway with a width of 500ft. Landing lights were installed. A customs office was available for incoming planes. 3,500 people attended the opening of the airfield. There was an air show with four T-33 jet trainers making low sweeps before returning to base at Trenton. Three Harvards also from Trenton gave a display of formation flying and aerobatics. A DC-3 from the air search and rescue division at Trenton was a great attraction. This plane landed in the morning and was open to the public for inspection throughout the day. More than 30 planes from various flying clubs in Ontario and Quebec were also lined up for inspection and proved very interesting to the audience. The show was brought to a close when three CF-100's from Ottawa made a fly-past in salute to Perth's new airport. In 1958 World Wide Airways applied for a franchise to fly regular daily passenger services with a flight route from Toronto, Oshawa, Peterborough, Trenton, Kingston, Perth Ottawa, Cornwall and Montreal. The service would also include flights to the US. The franchise was never obtained. There were three airshows since the opening of the airport and in 1959 before a large crowd of 1,500 people one pilot and a passenger crashed to their deaths in a Cessna plane. The airstrip was basically used by local pilots and flying clubs.
The airport got new life in 1964 when the first Commercial Airplane landed. Many attempts were made to make the airstrip viable and by 1970 town council was still debating the merits of an airport. In 1976 the land at the airport was in discussion in town council again with a proposed shopping center on the site. The airstrip was still used in the summer during this time but was dismantled in order to accommodate the new Albany International plant in the early 1980's
---
STREET NAMES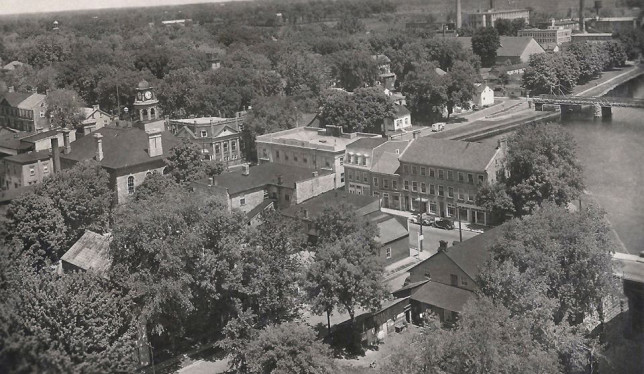 ARTHUR STREET
Col. Arthur Matheson. (December 1842 – January 25, 1913[1]) was a Canadian lawyer and politician. He served as a Conservative Member of the Legislative Assembly of Ontario for Lanark South from 1898 to 1913, and was provincial treasurer from 1905 to 1913.
He was born in Perth, Canada West in 1845, the son of Roderick Matheson, and educated at Upper Canada College and Trinity College, Toronto. Matheson studied law, was called to the bar in 1870 and set up practice in Perth. He was mayor of Perth in 1883 and 1884. Matheson served in the local militia, including service during the Fenian raids, and became lieutenant-colonel in 1886. Other than serving as provincial treasurer, Matheson was member of various house committees, including the Standing Committee on Public Accounts. He died in office in 1913.
The geographical township of Matheson, part of Black River-Matheson Township, was named after Arthur Matheson.
BABY STREET on Cockburn Island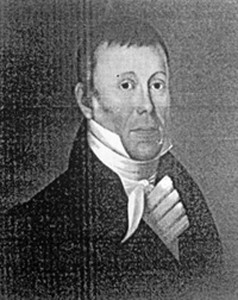 Hon. Jacques (James) Baby (1782-1833). His family was of French descent, one of the most ancient and honourable in New France. His father had removed from Lower Canada to Detroit (in Upper Canada until 1798) before the Conquest of Quebec in 1759. For more information: http://www.biographi.ca/en/bio/baby_james_6E.html
BAYNES STREET
Edward Baynes, soldier, military officer in the (b unknown; d at Sidmouth, England, Mar 1829). Edward Baynes entered the army as an ensign in 1783. Much of his early career was spent in the West Indies, including in command of a detachment of army troops acting as marines on a British frigate. In 1790 Baynes became a lieutenant. Between December 1794 and May 1806 he served as aide-de-camp (ADC) to Lieutenant-General Sir James Craig at the Cape of Good Hope and in the East Indies, India, Gibraltar, Malta, Naples and Sicily, with brief periods in England. Baynes became a captain in 1795, brevet major in 1796, major in 1800 and brevet lieutenant colonel in 1802.
BECKWITH STREET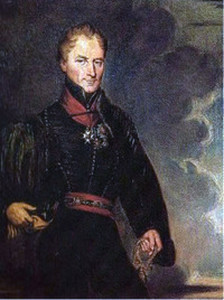 Sir Thomas Sydney Beckwith, army officer; b. 1772, third son of John Beckwith, army officer; m. Clementina Loughnan; one son and at least two daughters; d. 15 Jan. 1831 at Mahabaleshwar, India. Thomas Sydney Beckwith first saw active service as a junior officer in India (1791–98). In January 1813, Britain being at war with the United States, Beckwith was named an assistant quartermaster general in North America. At the same time he was given command of the landing forces in an amphibious operation intended to harry the Chesapeake Bay area and reduce American pressure on the Canadas. Later that year Beckwith joined the staff in Lower Canada as quartermaster general; this post was of central importance during the final phases of the war. His department was responsible for the encampment, quartering, and movement of the army, duties that involved the collection of topographical and "secret" intelligence. In the autumn of 1814 Beckwith took part in Sir George Prevost's abortive attack on Plattsburgh, N.Y. Plattsburgh was Beckwith's last experience of active service. It did not damage his reputation; indeed in January 1815 he was awarded the KCB. Appointed colonel commandant of his old corps, now the Rifle Brigade, in 1827, he became commander-in-chief at Bombay two years later and attained the rank of lieutenant-general in 1830. He died of fever in January 1831.
BROCK STREET
Major General Sir Isaac Brock, army officer and colonial administrator; b. 6 Oct. 1769 in St Peter Port, Guernsey, eighth son of John Brock and Elizabeth De Lisle; d. 13 Oct. 1812 at Queenston Heights, Upper Canada. Isaac Brock was one of the people to whom it is given to change the course of history. But for the presence in Upper Canada in the summer of 1812 of this able and magnetic general officer (and a single battalion of British regular infantry) the province would certainly have fallen to the United States; whether or not it was recovered would have depended on the determination of the British government. For more information: http://www.biographi.ca/en/bio/brock_isaac_5E.html
CHETWYND STREET
Richard Chetwynd, 5th Viscount Chetwynd of Bearhaven was born on 29 September 1757 at Heywood Park, Little Heywood, Staffordshire, England. He was the son of William Chetwynd, 4th Viscount Chetwynd of Bearhaven and Susannah Cope. He married Charlotte Cartwright, daughter of Thomas Cartwright and Mary Catherine Desaguliers, on 30 July 1791 at Grosvenor Place, London, England. He died on 27 February 1821 at age 63 at Bolton Row, Piccadilly, London, England.3 He died intestate and his estate was administered in April 1821.
He was Clerk to the Privy Council between 1772 and 1821. He succeeded to the title of 5th Baron of Rathdowne, co. Dublin [I., 1717] on 12 November 1791. He succeeded to the title of 5th Viscount Chetwynd of Bearhaven, co. Kerry [I., 1717] on 12 November 1791. He gained the rank of Lieutenant-Colonel in the service of the York Fencible Infantry Regiment.
COCKBURN STREET
Lieutenant-Colonel Sir Francis Cockburn, soldier: b. 10 Nov. 1780 in England, the fifth son of Sir James Cockburn, 6th Baronet of Langton, and his second wife, Augusta Anne Ayscough; m. in 1804 Alicia Sandys; d. 24 Aug. 1868 at East Cliff, Dover, England. He was Deputy Quarter Mater General to the Forces, who was with the Duke of Richmond when that Governor-General visited Perth in 1819 and who encouraged the settlement of a "loyal and warlike population on the banks of the Rideau and Ottawa." In 1820 Lord Dalhousie, then Governor-General, wrote, "I must particularly notice the valuable services of Lt. Col. Cockburn, Deputy Quarter Master General who has from the beginning conducted and given life and energy to every part of the Establishment; he first wight he compass in hand penetrated thro' these woods to ascertain the practicability of the plan, and to this controls and directs everything belonging to it." On 30 July 1829 Cockburn joined the 2nd West India Foot, and in September of that year was ordered to British Honduras, where from 1830 to 1837 he was superintendent of the colony. From 1837 to 1844 he served as governor and commander-in-chief of the Bahamas; he had been knighted in 1841. In 1846 he was elevated to the rank of major-general, and on 26 Dec. 1853 was appointed colonel of the 95th Foot. He became lieutenant-general in 1854 and general in 1860, and died in 1868.
COLBORNE STREET
Sir John Colborne, 1st Baron Seaton, soldier and colonial administrator; b. 16 Feb. 1778 at Lyndhurst, Hampshire, England, the only son of Samuel Colborne and Cordelia Anne Garstin; d. 17 April 1863 in Torquay, Devonshire, England. Played a brilliant part at Waterloo, when in Command of the 52nd he led the rout of the old guard of Napoleon. In 1828 Colborne became Lieutenant Governor of Upper Canada continuing in office until early in 1836.
CRAIG STREET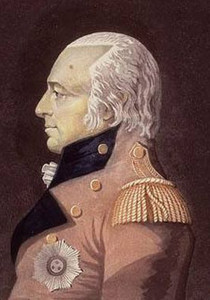 Sir James Henry Craig, army officer and colonial administrator; b. 1748 at Gibraltar, son of Hew Craig; d. unmarried 12 Jan. 1812 in London, England. Craig came from a Scottish family whose father was a judge of the civil and military courts in the British fortress of Gibraltar. After the outbreak of the War of Independence in 1775, Craig took part in the Battle of Bunker Hill, where he was badly wounded, but refused to leave his regiment, and participated in the defence of Quebec in 1776, where he met the American invaders at Trois-Rivières while commanding the advance guard that forced them back beyond the border. He was Governor-General of Canada in 1807. For more in formation: http://www.biographi.ca/en/bio/craig_james_henry_5E.html
D'ARCY STREET
D'Arcy Boulton, lawyer, politician, and Orangeman; b. 29 March 1825, at Perth, U.C., grandson of D'Arcy Boulton*, and son of James Boulton and Susan Beman, half-sister of Sir John Beverley Robinson; m . in 1856 Louisa Charlotte Corbett; d. at Toronto, Ont., 16 Feb. 1875. For more information: http://www.biographi.ca/en/bio/boulton_d_arcy_1825_75_10E.html
DRUMMOND STREET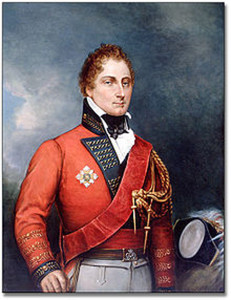 Sir Gordon Drummond, (27 September 1772 – 10 October 1854) was a Canadian-born British officer and the first official to command the military and the civil government of Canada. Drummond entered the army, 1789, and commanded his regiment during the campaign in Egypt, assisting in capture of Cairo and Alexandria. In 1805 given rank of major-genral and took command of a division in Jamaica. In December, 1808 transferred to the staff in Canada, until 1811. Returned to Canada  as second in command to Sir George Prevost, 1813. Took a most prominent part in the War of 1812. From December 1813 to April 1815, administrator of Upper Canada, and during this period succeeded in turning the tide of victory to the British forces. Defeated the Americans at Niagara, July 28, 1814, and followed this up by occupying Fort Erie in November. On the departure of Sir george Prevost appointed administrator of Lower Canada from 1815 to May 1816. Obtained the rank of lieutenant general in 1825.  For more information: http://www.biographi.ca/en/bio/drummond_gordon_8E.html
DUFFERIN STREET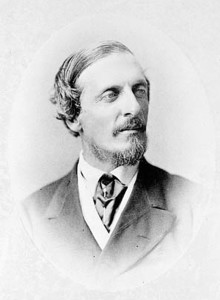 Lord Dufferin served as Governor General of Canada during a period of rapid change in Canadian history. During his term, Prince Edward Island was admitted to Confederation, and several well-known Canadian institutions, such as the Supreme Court of Canada, the Royal Military College of Canada, and the Intercolonial Railway, were established. For more information: https://en.wikipedia.org/wiki/Frederick_Hamilton-Temple-Blackwood,_1st_Marquess_of_Dufferin_and_Ava
ELLIOTT STREET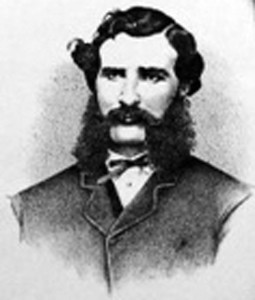 Edward Elliott, Postmaster, Barrister and Mayor of Perth 1879, afterwards Judge Elliot of London, On.
FOSTER STREET
Colley Lyons Lucas Foster, army and militia officer; b. 1778 in Ireland; m. first 1813 Elizabeth Kirkpatrick in Clonsilla parish (Republic of Ireland), and they had seven children; m. secondly 4 Feb. 1836 Ellen Humphreys in Toronto, and they had one son and two daughters; d. 7 May 1843 in Kingston, Upper Canada. Major Foster, who was military secretary in Quebec in 1816. For more information: http://www.biographi.ca/en/bio/foster_colley_lyons_lucas_7E.html
GORE STREET
Hon. Francis Gore colonial administrator; b. 1769 in Blackheath (London), England, son of Francis Gore and Caroline Beresford; m. 1803 Annabella Wentworth, they had no children; d. 3 Nov. 1852 in Brighton, England.(1769-1852) had a long career in the British Army. He served as governor of Bermuda in 1804 before being appointed as lieutenant-governor of Upper Canada on Aug. 25, 1806. For more information: http://www.biographi.ca/en/bio/gore_francis_8E.html
HALTON STREET
Halton Street is named for Major William Halton, secretary to Francis Gore, lieutenant governor of Upper Canada, 1806-11 and 1815-17. He returned to England was editing the manuscript journals of Upper Canada prior to his death in 1821.
HARVEY STREET
Sir John Harvey, army officer and colonial administrator; b. 23 April 1778 in England; m. 16 June 1806 Lady Elizabeth Lake, and they had five sons and one daughter; d. 22 March 1852 in Halifax. A veteran of the British army who saw active service in Holland, France, at the Cape of Good Hope, Ceylon, India, and Egypt. In 1812 he served as deputy adjutant-general of the army in Canada, leading troops in the battles of Stony Creek, Lundy's Lane, Fort Erie, and Crysler's Farm. In 1815, as aide-de-camp to the Duke of Wellington, he participated in the Battle of Waterloo. From 1837 to 1852, Harvey served as governor of the provinces of New Brunswick, Newfoundland, and Nova Scotia. For more information: http://www.biographi.ca/en/bio/harvey_john_8E.html
HERRIOTT STREET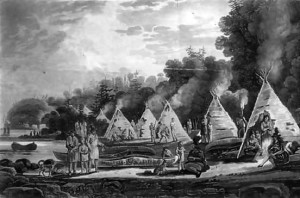 Heriot Street is named after George Heriot (1766-1816), who was born on the Island of Jersey. Came to Canada and he was appointed to a number of administrative roles in Canada before serving in the War of 1812. He was second in command to Charles de Salaberry at the Oct. 26, 1813 Battle of the Chateauguay, a victory over United States forces which had invaded Canada. The paintings made to illustrate his book "Travels Through the Canada's" 1807, are an excellent record of the time.
PREVOST STREET
 Sir George Prevost, army officer and colonial administrator; b. 19 May 1767 in New Jersey, the eldest son of Augustin Prévost and Nanette (Ann) Grand; m. 19 May 1789 Catherine Anne Phipps, and they had five children, one of whom died in infancy; d. 5 Jan. 1816 in London, England, and was buried in East Barnet (London). http://www.biographi.ca/en/bio/prevost_george_5E.html
ROBINSON STREET
Frederick Philipse Robinson, British army officer, military figure in the War of 1812 (b at New York, NY, Sept 1763; d at Sussex, England, 1 Jan 1852). Frederick Robinson was born in the British province of New York. During the American Revolution, Frederick's father raised a Loyalist unit known as the Loyal American Regiment, to which Frederick was appointed as ensign in February 1777.
SHERBROOKE STREET
Sir John Coape Sherbrooke (baptised 29 April 1764 – 14 February 1830) was a British soldier and colonial administrator. After serving in the British army in Nova Scotia, the Netherlands, India, the Mediterranean (including Sicily), and Spain, he was appointed Lieutenant-Governor of Nova Scotia in 1811. During the War of 1812, his policies and victory in conquest of present day Maine, renaming it the colony of New Ireland, led to significant prosperity in Nova Scotia. For more information:
http://www.biographi.ca/en/bio/sherbrooke_john_coape_6E.html
WILSON STREET
Perth's main corridor from Highway 7 to the downtown is named for Major General John Wilson, who succeeded Sir Gordon Drummond in 1816, and was Officer Commanding the Forces in Canada.
VICTORIA & QUEEN STREET
Victoria (Alexandrina Victoria; 24 May 1819 – 22 January 1901) was Queen of the United Kingdom of Great Britain and Ireland from 20 June 1837 until her death. From 1 May 1876, she used the additional title of Empress of India.
Several more streets were laid out in the 1840s by Judge John Glass Malloch
Isabella, Mary, Alexander and Stewart. Isabella Street is named after the judge's first wife, Mary Street for his second wife, and Alexander and Stewart streets for Malloch's (second) father-in-law, Alexander Stewart.
The property south of Wilson Street was originally owned by Alexander Thom who was the town's first physician. Thom Street is named after him and by Dr. Grant, one-time owner of McMartin House, and origin of the name of Grant Street.